A tale of 7 cities... a fitting way to describe how the Bureau of Alcohol, Tobacco, Firearms, [and Explosives] conducted rogue sting operations in 7 cities all over the country, committing all sorts of crimes, putting people in harm's way, and shutting down their stings with either nothing or next to nothing to show for it.
as first reported in exhaustive detail by the Journal Sentinel, the ATF's crimes include:
- Using mentally disabled people as rubes, then arresting them on federal charges.
- Letting known violent criminals walk out of stings with guns.
- Allowing weapons to be stolen.
trashing the buildings they rent to set up fake storefronts.
- Entrapment.
- Allowing their storefronts to be robbed.
- Creating crime waves and illegal gun/drug markets.
- Creating crime.
- etc.
In the wake if these stings, politicians have demanded investigations. Civil liberties groups and mental health advocates have demanded reforms. Various lives of innocent people have been wrecked. A few guns have been taken off the streets (and a few put back). The top guy who headed these operations is now running the Phoenix, AZ office (where the "Fast and Furious" debacle originated, more on that later). And approximately ZERO heads have rolled within the ATF agency.
We've covered the local botched sting here in Portland, and the one in Milwaukee where some of the worst of this shit occurred. Now we focus on Atlanta, Pensacola, Wichita, Albuquerque, and Phoenix.
http://www.jsonline.com/watchdog/backfire-190528221.html
ATLANTA, GA
In June 2010 ATF buffoons, in cooperation with the Atlanta Police Gestapo, set up "Operation ATL Blaze" along with a phony smoke shop business called "ATL Blaze" which lasted 7 months. A business purported to have sold only cheap-ass "urban" cloths and tacky drug paraphernalia, agents posing as store managers and workers encouraged people to bring in guns for cash. Where the guns came from didn't seem to matter much. Instead of a buy-back, the sting created an out-right crime wave where criminals would commit all manner of burglaries and break-ins, steal guns and other items, then take them directly to "ATL Blaze" to sell them. As was done in other cities, the Atlanta operation paid way over top dollar for weapons, giving people a huge incentive to commit crimes whereas, they wouldn't have before.
In some cases, agents knew that items being brought in were stolen. Some weapons were stolen from police squad cars! Not only that, but there was poor communication between ATF and local police. Weapons and other items brought in and sold at the fake shop weren't typically cleared with the Atlanta cops. So when citizens and businesses reported burglaries, APD scrambled to locate guns and items that were already in the ATF's possession.
An undercover operation in Atlanta, a smoke shop called ATL Blaze, experienced similar problems. Some defendants came to the store as many as 20 times after stealing weapons and other goods.
Some guns were stolen from police squad cars. ATF agents said in court documents they tried to deter such thefts by paying less for police guns.
The burglaries associated with ATL Blaze caused other problems for local law enforcement. Sheriff's deputies and local police — unaware the weapons had already been recovered by federal agents — scrambled around to solve the burglaries, spending untold resources interviewing witnesses.
At times, they never solved the case. And the weapons never made it back to the owners.
A Hi-Point pistol stolen from a car just after Christmas in 2010, for example, was still listed as stolen by the Fulton County Police Department when the Journal Sentinel contacted the department last month. ATF agents bought the gun at their secret storefront a week after it was taken.
"If the ATF recovered this weapon, it should be in our system." said Lt. G.T. Johnson, of the department. "We have not received any notification that it was recovered." --- excerpt courtesy of the Journal Sentinel
PENSACOLA, FL
In 2010 ATF set up a fake pawn shop called "Anything for a Buck". Instead of doing all the dirty work themselves though, this time they hired a convicted felon named Gary Renaud to run the shop for them. Renaud had already been secretly cooperating with ATF scum since 2008, when they picked him to run their Pensacola operation. Doing this not only expanded the dragnet of potential convicts and petty criminals that would bring in guns/stolen items to sell, but even people who would legally sell or pawn their guns. ATF weren't the least bit concerned about this, nor that many of the cases garnered would eventually end up in probation, not-guilty verdicts, or being dropped all together.
Nor that "their guy" Renaud was a violent repeat offender would eventually be arrested for pointing a gun at another man outside a bar. But he would got off with six months for that. They just wanted to boost arrest numbers as much as possible. That looks good on paper, in public press conferences, and on official govt. law-enforcement web sites.
An interview with ATF stooge/rat Gary Renaud can be listened to here:
http://www.jsonline.com/multimedia/video/?bctid=2907801440001&bctid=2907801440001
ATF informant/shop keeper/felon Gary Renaud in recent police photo.
Anything for a Buck snags 'Little Squirrel' in Pensacola
Jeremy Norris wasn't a felon. He wasn't prohibited from owning or selling weapons when he put his guns up for sale in March 2010 in a local weekly newspaper.
The unemployed 24-year-old Norris — who lived with his parents and girlfriend — got into trouble when he answered a phone call from someone inquiring about the guns.
He didn't know the caller was working for an undercover federal sting. Norris has an IQ of 76, defined by experts as diminished mental capacity, bordering mental retardation.
Norris didn't have a car, so ATF agent Craig Saier — assigned to a fake pawnshop called Anything for a Buck — went to him. And he brought along the operation's top asset, a felon named Gary Renaud.
Anyone who sold to Renaud — knowing he was felon — could be criminally charged.
That first day, Renaud bought guns from Norris — but because he never said he was a felon, Norris could not be charged with a crime.
The next time was different. Renaud told Norris he was a felon. Norris sold him a gun anyway. And Renaud and agents went back.
Again and again. Each time paying far more than retail for the guns. So much that sometimes Norris, his parents and his girlfriend went to gun stores, bought firearms and sold them to Renaud at the storefront for a profit the same day, according to court documents.
The agents called Norris "Little Squirrel". Surveillance video captured one of them saying, "I can use his desperation against him,"
according to court documents
.
"They were abusive to him," Norris' lawyer Jennifer Hart said in an interview. "These are federal agents. Jeremy was like shooting fish in a barrel for them. Jeremy Norris is mentally retarded and the agents in this case used that to take advantage of him."
Renaud told the Journal Sentinel that nobody took advantage of Norris. Although he and agents joked that Norris was "half retarded," he knew what he was doing, Renaud said.
Citing Norris' low IQ,

a
judge sentenced him to probation
.
Norris was not the only mentally diminished defendant involved in the Anything for a Buck operation.
John Molchan, a state prosecutor in Florida, said his office reviewed and prosecuted several of the storefront cases. He said they decided not to pursue cases against a number of low-mental-functioning defendants.
"They didn't even arrest those people", Molchan said, noting prosecutors have great discretion when deciding whether to charge in such cases.
"I tell all the assistants, 'Do the right thing.' What is the right thing when dealing with someone who is not as gifted as everybody else?" Molchan said. "There is a great deal of responsibility placed on us to deal with that kind of problem." --- courtesy of the Journal Sentinel

WICHITA, KA
Agents ensnare 'slow-headed' man
Tony Bruner was looking for a job when he noticed a new store opening a few blocks from where he lived with his grandmother in a lower-income neighborhood in Wichita, Kansas just east of Interstate 135.
With an IQ in the mid-50s — considered extremely intellectually deficient — Bruner hadn't been able to hold down a job. His 2009 felony burglary conviction didn't help.

Still

he was under pressure from his probation agent and grandmother to find work.
Bruner hadn't heard of "Bandit Trading", but the thrift shop full of hip-hop clothes and shoes looked like a good prospect when he walked in.
The 20-year-old Bruner was just what undercover agents running the store were looking for.
Agents could see Bruner was intellectually disabled. On a video of one of their first meetings in November 2010, agents referred to him as "slow-headed," according to Jeff Griffith, Bruner's attorney.
"It was essential to have someone like Tony or your low-IQ guy in Milwaukee for this operation," Griffith said. "These 30-something bearded and tattooed white guys aren't going to knock on doors in the hood and say 'Do you have guns?' They had to get someone to do it for them."
Agent/pig Jason Fuller hired Bruner to hand out cards in the neighborhood and do bullshit "gofer" jobs, such as clean up the parking lot... and watch out for police. The agents paid him in cigarettes, cheap clothing from the store, and cash — $20 to $50 in commission to find them electronics and other goods. And they took him to McDonald's when he was hungry.
Eventually they asked him to find guns.
Bruner said he didn't have any but he would try to find some. He ended up brokering dozens of gun sales.
And then, they arrested him on more than 100 counts of being a felon in possession of a weapon.
"I thought I was doing, I was just doing my job. I didn't think I was doing anything wrong,"
Bruner told the judge
. "And they tricked me into believing I was doing a good job. And they'd tell me I was doing a good job, pat me on the back, telling me, 'You're doing a good job.' We'd hug each other and stuff like that, and they treated me like they cared about me. I told 'em I had a felony, I'm trying to stay out of trouble."
While other defendants suspected the store was a front — one was captured on video saying, "You are straight-up police!" — Bruner kept telling the people in the neighborhood that the agents were his guys, "his bosses."
Glenda Thomas, Bruner's grandmother, said the ATF pigs duped him. She warned him to stay away — just like a grandmother in Milwaukee warned her brain-damaged grandson about Fearless Distributing.
"Those guys kept preying on him about everything — giving him a shirt, a pair of pants, shoes, and a pair of shorts —that's how they paid him," Thomas told the Journal Sentinel.
"I told him, I said, 'Tony, those people are not real. Why would they pay you to look out for a police car?' I said, 'Tony, you need to stop messing around with them.' He said, 'Oh, Grandma, those are my friends.'"
The judge found Bruner legally competent to proceed in his case.
Bruner told the judge he worried he would be killed in prison because the government made it look like he was working with the agents, and most of the defendants believed it.
He was sentenced to three years in prison. The judge told him he was getting a big break because he could have gotten 10 to 12 years.
Advocates for the developmentally disabled called the ATF's tactics disturbing.
"People working in the justice system — from street cops to federal judges — need to give additional consideration to circumstances involving people with disabilities." Davis said. "This is a population of people that are easy to get to do things. They are easy prey... They can't make good judgment calls. That's a serious issue if an ATF agent comes up and wants to be your friend."

--- Courtesy of the Journal Sentinel.
The letter ACR,
national advocacy organization for people with developmental and intellectual disabilities
wrote to Attorney General

Führer

Eric "F&F" Holder on December 12th 2013:
http://www.documentcloud.org/documents/895414-atf-letter-to-ag-holder-dec-12-2013-signed-1.html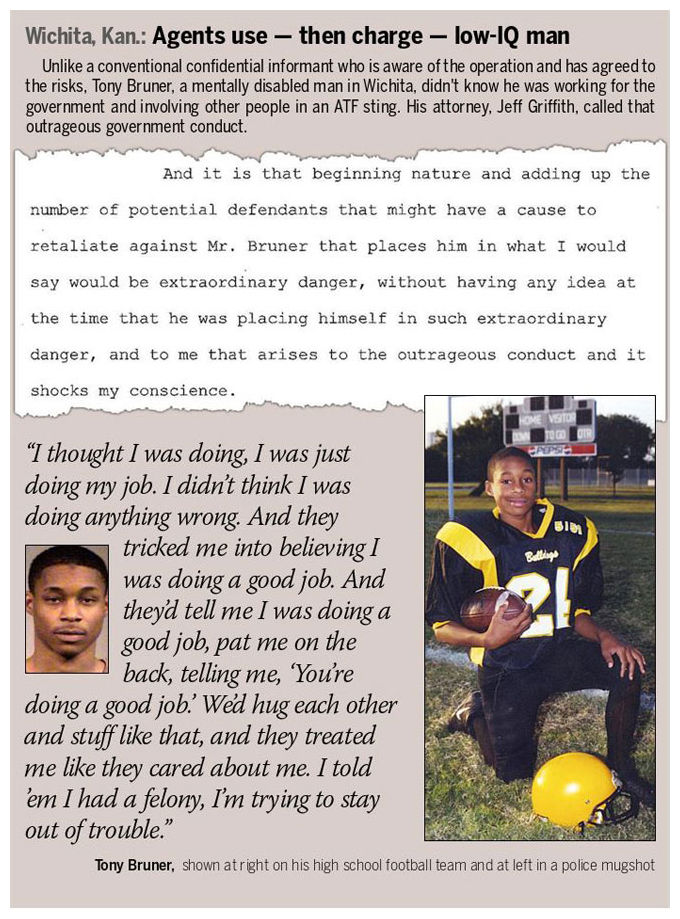 ALBUQUERQUE, NM
Attorney says defendant got 'tutorial' on gun
Guillermo Medel

was a heroin addict and drug

dealer hoping to make some cash to support his habit when a friend brought him to Jokerz Traderz(sic) pawnshop in a strip mall in a working-class neighborhood on San Mateo Blvd. in Albuquerque, NM.
The 28-year-old Medel, who had been convicted of felony drug possession and conspiracy to commit aggravated assault, carried a revolver for protection but had never dealt in guns, according to court records.
When undercover ATF pigs running the store offered him $400 for his gun, he saw an opportunity. He

didn't sell it then — he said he needed it — but over time he developed a relationship with the agents, bringing them guns he would get from trading drugs on the street.
When they asked for a machine gun, Medel thought he had one for them.
One problem: he didn't know what a machine gun was.
Medel had brain damage. Hit by a drunken driver when he was 7, Medel had spent months in the hospital and never fully recovered.
Agents took advantage of that and his drug addiction when they offered such high prices for guns, Medel's attorney, Brian Pori, said in court.
Pori told the Journal Sentinel he is "certain that the agents were aware that Guillermo was a drug-addicted, brain-damaged street hustler who never trafficked guns in his life."
"He wouldn't know how to use a machine gun to save his ass," Pori said.
ATF pig/pendejo Brandon Garcia acknowledged in court Medel didn't know how to identify a machine gun. Garcia said he "field tested" the machine gun in front of Medel to determine whether it was a machine gun but wasn't teaching Medel how to use it.
"And even though he saw me do it he still doesn't know how to do it," Garcia said in a March 2, 2011, hearing.
Garcia denied knowing Medel was brain damaged.
Ultimately Medel brought them a fully automatic machine gun, the only one seized in the sting. Medel was sentenced to eight years in federal prison.
In another case stemming from the Albuquerque sting, federal charges were dismissed against a defendant with "an extensive psychiatric history."
PHOENIX, AZ
The Justice Department's inspector general
is investigating the Milwaukee operation as part of an even larger probe into the corrupt agency following the disastrous "Operation Fast and Furious
". In one of the worst scandals in AFT history, agents in Phoenix allowed more than 2,000 guns to walk into the hands of suspected criminals. Basically, the ATF sold thousands of assault weapons to Mexican drug cartels in an effort to "track" them - then they lost track of them. The ATF supervisor who had authority over the failed Milwaukee operation, Bernard "B.J." Zapor, has now been put in charge of the Phoenix office
. The same office from which the "F&F" debacle first originated. The sorry son-of-a-bitch should've been forced to resign his post over that utterly clown shoes sting in Milwaukee... instead he gets shifted to another messy, scandal-wrecked office. In a state with NO shortage of police corruption and police terrorism!
http://www.c-spanvideo.org/bjzapor
*********************************************************
Thanks to the Journal Sentinel for their exhaustive reporting on this. Based out of the city of Milwaukee, the Journal first broke the story of the botched ATF sting "Operation Fearless". Further investigations on their part soon revealed that, far from an "isolated incident", ATF have been running rogue stings all over the country using many of the same tactics as they did in Milwaukee.
Thanks to the Willamette Week, who first picked up on the failed ATF Portland sting "Operation Kraken" and for linking its readers to the Journal Sentinel article series, 'Backfire', which chronicles the rogue methods and out-right crimes of the ATF.