So all Hell has broken loose in the embattled city of Baltimore, MA. And as usual, we have the police to thank for it all! How many more times does this shit have to happen, before people finally WAKE UP?!
As previously reported HERE on

Targeting Cops

, 25 year old Freddie Gray was chased down and beaten by Baltimore police thugs on Sunday April 12th 2015. Gray had allegedly made "eye contact" with a sergeant and ran (for his life, as we all now know). This has so far been the only explanation given for why Gray was arrested. Video of Gray being arrested by cop thugs and thrown into a police van can be viewed HERE. At some point during his illegal arrest, Gray had suffered a mortal injury to his spine. Gray died in a hospital on Sunday April 19th. An independent autopsy report later showed that Gray's spinal cord was severed at the neck. As of the publication of this blog entry, Baltimore police terrorists have not yet provided to the public, an adequate explanation as to how Gray's neck got broken.
genocide in process: The deceased Eddie Gray, seen here at his funeral in West Baltimore on Monday April 27th.
UPDATE:

Freddie Gray's funeral was held on Monday April 27th, in West Baltimore. The near-capacity service was attended by hundreds, including several politicians, civil rights leaders, and the family members of other victims of police murder... all in solidarity. The funeral followed two weeks of city-wide protests, since Gary's murder back on April 12th. By later that Monday evening - with another innocent man in the ground, no answers from the city's so-called "leaders" (much less the police regime), and the measly paid-suspensions of six bastard-ass cops, the situation turned ugly. And about damned time!
Pork roast: A police transit van was set ablaze during justified protests Monday evening in Baltimore. Unfortunately, no cops were inside vehicle at the time.
Baltimore residents seen here during a less violent protest, demanding justice for Eddie Gray, as well as other victims of police murder.
http://rt.com/usa/254349-media-coverage-baltimore-questions/
Eddie Gray seen in this video still, being dragged away by terrorist cops. It remains unclear whether Gray had already been injured at this point, or whether he was injured while in a police van later on.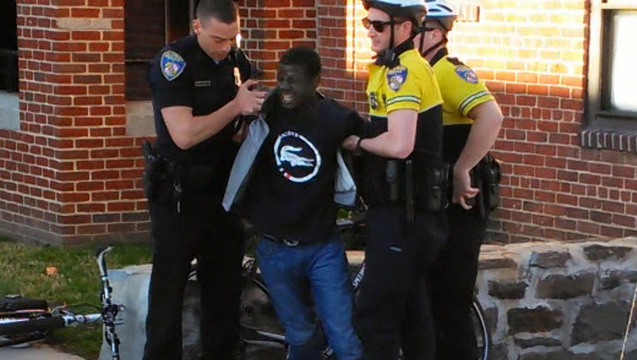 Following Gray's funeral this past Monday, what had been two weeks of non-violent actions turned more hostile. There were various reports of so-called "rioting", "looting", and property damage. There were also reports that more than 20 cops had been injured, and more than 200 arrests had been made. In the wake of suck reported arrests, Maryland's governor Larry Hogan declared a state of emergency in he city. Governor Hogan also deployed the National Guard, and enforced a curfew in the city. Basically, all of Baltimore has been reduced to a Police Occupied Zone(POZ) since Monday April 27th.
Typically, corporate-whoring mass Media
intentionally distorts the narrative of what's truly going on. As this story continues to unfold, more information will be posted here...