Marine veteran Scott Olsen, who was nearly murdered by vile, sub-human police monsters during Occupy Oakland, has settled with the embattled city of Oakland for $4.5 million.
http://rt.com/usa/occupy-scott-olsen-settlement-433/
On October 25th 2011 Scott Olsen, a marine and Iraq war veteran, was marching in a demonstration as part of Occupy Oakland. Olsen, 24 at the time, was shot in the head at near point-blank range by a beanbag round (bag containing lead pellets, discharged from shotgun) - fired by police gestapo who were actively besieging the city at that time. Olsen suffered a fractured skull and was bleeding heavily from a severe head wound.
In addition, other activists/citizens were fired upon by vile police monsters with tear-gas and flash/bang grenades as they ran to the aid of Olsen. Olsen was unconscious and lying in an expanding pool of blood - his life very much in grave danger - and police monsters shot "less-than-lethal" projectiles at anyone who attempted to help him. This act of barbarism was not only attempted murder on the part psychotic Oakland pigs, but a direct violation of Olsen's human rights. It also would've been considered an absolute war crime, had it happened in an official war zone.
From one war zone to another: Scott Olsen, after he was shot by Oakland police gestapo.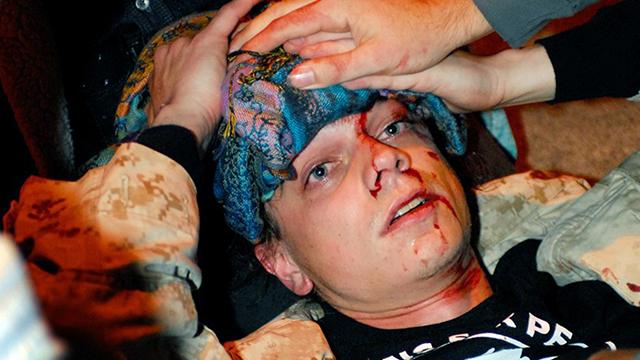 Band of Brothers: Fellow marine vet Jay C. Gentile, seen here holding photo of injured fellow vet Olsen.
http://rt.com/usa/marine-oakland-reddit-olsen-923/
Despite a ruthless assault by Oakland pigs, Olsen was eventually taken to the city's Highland hospital in critical condition, with a skull fracture, bleeding on his brain, and broken bones in his face. Video of the incident quickly went viral. The actual pig-beast who shot Olsen has never been publicly identified. No gang members of the Oakland police gestapo have ever been disciplined for the crimes they've committed against peaceful citizens during Occupy actions.
"Oakland agreed to pay an Iraq War veteran $4.5 million to settle a federal lawsuit he filed after a city police officer shot him in the head with a beanbag during an Occupy protest, nearly killing him and leaving him with permanent brain damage, attorneys said Friday."
http://www.eastbayexpress.com/SevenDays/archives/2014/03/21/oakland-to-pay-45-million-to-iraq-war-vet-scott-olsen
On Friday March 21th the city of Oakland and Olsen's lawyers agreed to a $4.5 million settlement
because of the police assault during Occupy Oakland. It marks but the latest in a series of costly settlements the city has paid out, due to its wilding, out-of-control police force.
-------------------------------------
Scott Olsen is a former marine who had served two tours in Iraq between 2006 and 2010. He saw combat but made it out of that man-made Hell-hole with mind and body both intact. And yet, Olsen comes back home, only to find himself in another war zone, shot in the head and grievously injured. The ENEMY proved not to be some fanatical "insurgent"... but the militarized police force of an American city.