STATE-VIOLENCE plagues many nations all over the world, such should be clear and obvious to
everyone
. Certain nation-states are particularly notorious for its state-violence, as well as the
terrorist militarized police gestapo
employed to mead out such violence against a nation's citizenry. Actually, it could be argued with reason that the largest most dangerous terrorist groups in the world are
not
shadowy
nation-less cabals with cells in every country. But in fact, governments themselves. This form of TRUE global terrorism manifests itself in various yet similar formats: be it the homogeneously titled
State Security Investigations Service
(simply,
Secret Police
) who enforced oppression in
Egypt
during
Mubarak
's reign (newly
reconstituted
and doing the military's bidding since that country's 2011 revolution).
Brazil
's dreaded
BOPE
(militarized police units *aka Death Squads).
Britain
's long known, Orwellian police "
security
" state, which
smothers
all of the U.K. like a wet blanket. Or here in
America
, where we have increasingly militarized "
SWAT
" units - now armed with military hardware (including tanks) which are routinely employed to serve search warrants.
Yet, even amongst a short list of the most horrific actors guilty of some of the worst police-state atrocities on Earth, ISRAEL sits on top of that list!
Brief back-story: on June 12th 2014 three Israeli teenagers were allegedly kidnapped in occupied West Bank, Israel as they were hitchhiking back to their illegal Jewish settlement. Immediately after the teens were reported missing, Israeli politicians blamed Palestinian leadership HAMAS for capturing the boys, despite the fact that there had been no evidence of foul play at that time. HAMAS denied the allegations. In the days following the missing report, Israeli Defense Force (IDF - Israeli military police/Israeli state-terrorists/Israeli Gestapo) launched a so-called "search" operation where they were supposedly trying to find the boys. But it was really more of a terror campaign in which more than 350 Palestinians citizens were arrested and tortured during this initial first wave, with 11 having been murdered.
Jewish False-Flags? The three Israeli teens who were allegedly abducted and killed, seen here.
During the period when the fate of the missing boys was still unknown (to most of the world at least), all of the Israeli leadership as well as craven Zionist supporters of Israel, waged a relentless propaganda war in which HAMAS and the Palestinian Authority were blamed wholesale for kidnapping the boys, and collective punishment against all Palestinian civilians was demanded. Homes and refugee camps were raided, dozens of innocent people were murdered, and hundreds of others were rounded up - including all of HAMAS' leaders stationed in the West Bank. IDF also launched "preemptive" missile strikes against various Palestinian targets (mostly civilian), murdering scores of people.
This Palestinian woman inspects her home after it was raided and ransacked by IDF gestapo.
This crater is all that remains of a HAMAS training camp, after it was hit by an American manufactured Israeli missile.
Mourners hover over the body of 20 year-old Ahmad Sabarin during his June 16th funeral. Sabarin was murdered by IDF pigs in the Jalazone refugee camp just outside the West Bank city of Ramallah.
Revenge kidnapping: IDF capture and blindfold Palestinian men during their "search" for the missing teens.
Jewish Nazis: Right-wing Israelis burn Palestinian flag and yell racist slurs during an anti-Palestine protest on June 16th, four days after 3 Israeli teens were reported missing.
On June 30th 2014, the missing teen's dead bodies were "
discovered
" in an open field near
Hebron
. According to autopsy reports, all three had been shot shortly after they were taken. Two Arab youths (patsys) were arrested in "connection" to the kidnapping/murders shortly afterwards. Then, things got ugly.
Israeli Prime Minister/war criminal/bloodsucking monster Benjamin Netanyahu demanded revenge for the murdered teens. He, along with all of Israeli leadership (including its so-called "moderates") did the same in ratcheting up a racist propaganda campaign of false accusations and outright LIES. But such was going on from the very moment the teens were reported missing, even though it is likely that Netanyahu and Israel's intelligence service (the dreaded Shin Bet) actually knew about the boy's deaths long before anyone else had.
Meanwhile, Zionists pigs and their capitulators took full advantage of the boy's deaths and used social media to ratchet up a racist smear campaign, making death threats and demanding collective punishment against all of the Palestinian people.
One particularly ravenous and cowardly Israeli politician, Ayelet Shaked, openly called for GENOCIDE against "Palestinian mothers who give birth to little snakes". Shaked made this hideous declaration on her Facebook page on July 1st... one day after the teens corpses were "discovered". Such is the level of pure vitriol in the Israeli government that a sitting politician can make such brazen calls for genocide on her own public Facebook page. One could say in reaction that Shaked were Israel's answer to Sarah Palin, if not Joseph Goebbels. Thing is, she's not even that extreme by [their] standards. A former coordinator for the Likud party(Israeli far-right) as well as current member of the Knesset (Israeli congress) and current member of the religious nationalist Jewish Home party, Shaked is quite mainstream.
Racist Israeli "lawmaker" Ayelet Shaked, who openly called for war and genocide against innocent Palestinian people.
"This is a war. It is not a war against terror, and not a war against extremists, and not even a war against the Palestinian Authority. Who is the enemy? The Palestinian people. Why? Ask them, they started." - Ayelet Shaked
Israel is the only nation in the world in which every single one of its prime ministers was a war criminal of some sort. Current PM
Benjamin Netanyahu is no exception to that trend.
Collective mass murder: Palestinian civilians search through the smoldering rubble of several destroyed buildings for victims. The buildings were targeted by Israeli air strikes in Rafah, Southern Gaza Strip on Friday July 11th.
Again, Ayelet Shaked is by no means an "extremist" in Israeli politics. She is typical. But not only that, she has broad support amongst the Jewish citizenry as well. The fact that her Facebook post calling for war and genocide received thousands of "likes" proves this sad reality.
The level of sheer hatred and violent racism within Israel has always been astoundingly high. And when three Jewish teens turned up missing and then dead, egged on by political hatemongers, Zionist vigilantes took action.
On Wednesday July 2nd, one day after Shaked's online post, 16 year-old Mohammed Abu Khdeir was abducted by vile Jewish thugs who pulled him into a car then sped away. His body was discovered by his family not long afterwards. Burns covered 90% of his body. Autopsy reports showed that the Palestinian boy was set on fire and burned alive, as well as severely beaten. The kidnapping and gruesome murder took place in the Shoafat neighborhood of occupied East Jerusalem. Six Jewish settler youths were later arrested and accused of taking part in Khdeir's murder. However, at least three of killers were later released, even though they had reportedly admitted to murdering Khdeir with revenge having been their motive. As of current, the homes of the six murder suspects remain intact. By comparison, the homes of the two "suspects" in the three Israeli teen's murders were destroyed by IDF terrorists immediately after their arrest.
http://cintayati.wordpress.com/2014/07/07/graphic-mohamed-abu-khdeir-forced-to-drink-gasoline-then-set-alight-by-violent-jews/
Mohammed Abu Khdeir's funeral was held soon afterwards, and was attended by thousands of Palestinian mourners.
The procession made its way through the streets of occupied East Jerusalem, towards his final resting place. Even then, mourners faced road blockades and harassment from Israeli police. Khdeir's grizzly murder sparked outrage and subsequent riots amongst Palestinian youths. Violence between Arabs and the Israeli pigs against which they were defending themselves lasted more than two days, coinciding with the first day of Ramadan on Friday July 4th.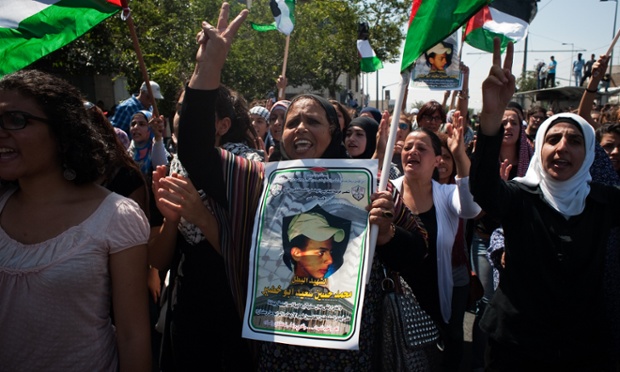 Soo horrific was the murder of Abu Khdeir, that even a small number of Israelis were outraged. A group of Anti-Zionist orthodox rabbis are seen here mourning over Khdeir. They view Zionism itself as being counter-productive to the Jewish people. They are a tiny minority.

Mohammad's father Hussein Abu Khdeir (left), seen here speaking with embattled Palestinian Authority president Mahmoud Abbas (right, in slick suit). Khdeir is hold a poster of his son, murdered by Jewish thugs. The P.A. shares dual governmental roles with HAMAS over occupied Palestine.
Mother Suhad Abu Khdeir seen here holding a cell phone image of her murdered son from her home in Shuafat, an Arab suburb in occupied Jerusalem.
As if the abduction, torture, and horrific murder of one child hadn't been enough for one family to bare, Mohammad's close relative was himself beaten and arrested. Fifteen year-old Tariq Abu Khdeir was set upon and savagely beaten by masked Israeli police pigs on Thursday July 3rd - just one day after his cousin Mohammad was buried. He was then arrested, denied medical treatment, and [initially] kept on house arrest without charge by Israeli occupying authorities. Israeli police gestapo claimed that Tariq was part of a group of youths who were throwing rocks at officers - A bold-faced LIE. As one can clearly see in the following video, Tariq is on the ground by himself, being kicked, punched, and beated repeatedly by two masked cops: https://www.youtube.com/watch?v=-tkTIG0-4BI
Tariq Abu Khdeir's beaten face seen here, courtesy of Israeli pigs!
Tariq also happens to be an American with dual Palestinian citizenship. He lives in Tampa, FL, but he along with his family have been visiting with relatives in occupied Palestine since June. His father Salahedeen Abu Khdeir says that Tariq was staying at his uncle's home in occupied East Jerusalem at the time. Salahedeen was in court pleading with an Israeli judge to have his son's injuries tended to (including possible internal bleeding) while he was still in custody. Despite Tariq's American citizenship, the U.S. Consulate in Jerusalem as well as the U.S. State Dept. have pretty much had no comment on the 15 year-old's situation - other than to say that they have "little recourse" but to follow Israeli legal procedures. Typically the U.S. empire is ready to go to bat for any of its citizens when they're being abused in another country, as any nation should of its own citizens... however, there is a major exception to this. That being, whenever the Israeli colonial Apartheid govt. abuses an American citizen, all of a sudden the U.S. govt. is "powerless" to do anything.
Happier times: Tariq seen here. Photo courtesy of the AbuKhdeir family.
As a matter of fact, Israel has pretty much had free reign to mistreat individual Americans and has been doing so for decades. Perhaps the most egregious and polarising example of the lopsided relationship between the two countries was when American peace activist Rachel Corrie was crushed to death by an IDF armored (and Caterpillar-owned) bulldozer in 2003. In an act of nonviolent resistance, Corrie was standing in front the home of a Palestinian family which was about to be demolished in Rafah, occupied Gaza Strip. Despite Corrie having been in plain view, the operator of that bulldozer ran right over her - a sadistic, deliberate act of murder. That operator and his identity remain protected by the Israeli govt. to this day. No one has ever been held responsible for Corrie's murder and the U.S. has done nothing to hold Israel accountable for the death of this American.
http://electronicintifada.net/content/photostory-israeli-bulldozer-driver-murders-american-peace-activist/4449
As of July 15th 2014, nearly 200 Palestinians have been murdered by IDF gestapo forces, during a relentless siege which has been going on since mid June. Most of the dead were not HAMAS members. They were unarmed non-combat civilians. Around 1400 more civilians have been displaced, rendered homeless, and forced to flee to Egypt due to an unending barrage of Israeli rocket-fire.
This goes far beyond "collective punishment". Most people - especially most people who get their indoctrination from Western mainstream corporate media - still think that this is all about the abduction/murder of three Israeli teenagers in June (a crime mind you, to which there remains no credible suspects and no real motive... assuming the boys were not murdered by govt. operatives. To this day, HAMAS and the P.A. both deny any involvement. No one else has confessed, and the crime remains unsolved). In justifying its latest act of U.S.-funded genocide, Israel cites "self-defense" and "HAMAS rocket attacks" as a reason for its continuous shelling of Palestinian areas, destruction of innocent people's homes, kidnapping, arrest, detainment, torture, and murder of civilians. Not ONE SINGLE ISRAELI has been killed during this [latest] assault (update - Israel apparently has suffered its very first casualty from a HAMAS rocket. The victim was said to have been a 37 year-old man distributing food parcels to IDF gestapo near the Erez crossing and occurred at around 7:00pm Middle Eastern time on Tuesday July 15th. The victim's name has not yet been released. - Sources: the Israeli Police). And despite the massive amount of Zionist propaganda both online and in media claiming that Israeli citizens are under constant threat from HAMAS rockets, the fact is that HAMAS rockets have resulted in very few Israeli casualties in the entire history of the Jewish state. To date, 28 people have been killed by rockets launched from Gaza during the entire history of cross-border rocket fire from Islamic militants.
HAMAS rockets are homemade, short ranged, light-weight, and lack advance technology. They have reportedly killed a total of 28 people, so far. Israeli missiles are American-made, laser-guided, and fitted with heavy warheads. Each missile is capable of leveling entire buildings and killing dozens of people, leaving behind craters 40 ft. wide and 20 ft. deep.
http://mondoweiss.net/2014/07/rocket-deaths-israel.html
On
Saturday July 12th 2014
, solidarity demonstrations in support of Palestine took place in cities all over the world, including the U.S. The following are images from a rally here in
Portland, OR
. It was organized, in part, by
Students United for Palestinian Equal Rights
or
SUPER
.
'BDS' refers to a global movement to BOYCOTT, DIVEST, and SANCTION Israel for committing genocide, crimes against humanity, ethnic cleansing, land theft, mass displacement, environmental destruction, and Apartheid. Zionist apologists typically refer to such a movement as "
economic terrorism".
There should be no doubt where president Obama gets his marching orders from. And to whom his does his bidding...
Another Israeli crime against humanity.
Worther sites to check out. Research. Find out for yourself what the terrorist, Apartheid pseudo-state of Israel is truly all about!
http://www.davidsheen.com/racism/
http://www.ifamericansknew.org/
http://normanfinkelstein.com/