The retired killer cop who gunned down an unarmed movie-goer over a text message will be going to trial.
Curtis Reeves Jr., the 71 year old retired FL police capo who gunned down an innocent man inside a crowded movie theater in Tampa, FL earlier this year will see his day in court. Amazingly, this worthless geriatric pig is quite confident that he will be acquitted
of his crime.
As first reported on here at TC, in January 13th 2013 Reeves was attending a 1:20pm screening for the film 'Lone Survivor' with his wife Vivian Reeves at the Wesley Chapel Groove Cobb 16 theater. The geriatric ex-cop became enraged at some point when another movie-goer, ex-Navy veteran Chad Oulson, was texting his young daughter's baby sitter right before the screening. At some point the two men began to argue, with Oulson having thrown popcorn at Reeves. Hey, a dark movie theatre, some asshole tries to pick a fight, someone throws popcorn at someone else - it's been known to happen. Usually, people are not killed over it.
Crime scene photos from that night:
The gun Reeves used to murder Chad Oulson.
The Cobb 16 theatre where the shooting took place.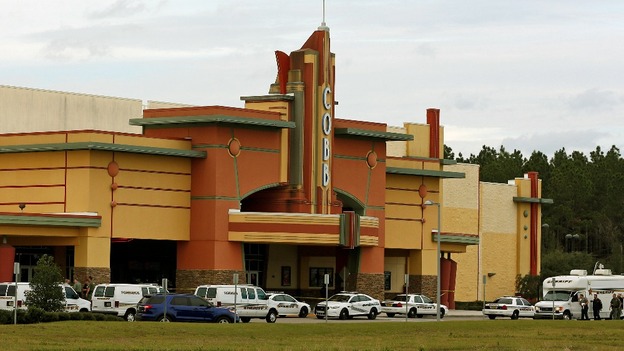 With Reeves however, it was a different story. The retired pig's response to having popcorn thrown in his damn face, was to pull out his concealed handgun and shoot the 43 year old Oulson in the chest point-blank. The victim's wife, Nicole Oulson, who was standing next to him, tried to shield her husband, and was shoot in the hand as a result. After ruining a movie-going night for perhaps a couple of hundred people - and gunning down an unarmed couple who refused to be subjected to bullying, Reeves was arrested later that night.
Movie casualty: Chad Oulson seen in this family photo next to his wife Nicole and their daughter.
Grieving widow: Nicole Oulson seen here during a television interview. Nicole attempted in vain to defend her husband Chad, right before Reeves ruthlessly gunned him down. Nicole was shot in the hand.
Anguish: Nicole Oulson sitting next to her attorney, at a bail hearing for her husband's killer - Curtis Reeves.
Nicole Oulson at her late husband's funeral, still recovering from a gunshot wound to the hand.
Maniac [retired] cop: movie killer Curtis Reeves Jr. seen here, during a court hearing. Reeves has been held without bond since his arrest for murdering a movie-goer back in January.
Ruined lives: the defendant's visibly distraught wife Vivian Reeves sitting next to her son Matthew Reeves, during a court hearing for husband/father/killer Curtis Reeves.
It must be reiterated that the Wesley Chapel Cobb 16 movie theatres where the shooting occurred, has a ZERO-TOLERANCE policy regarding the concealment, carry, and/or use of firearms on its property. So Reeves, a retired law enforcement officer, already was in violation of the law that night before he had even shot anybody. And perhaps in violation of the law many times before.
This is also interesting: it has since been revealed in court documents that minutes before he had shot and killed a man for texting, Curtis Reeves
himself
was also
texting
! Oddly, the old ex-capo deferred from committing suicide.
Matthew Reeves
, Curtis' son, told deputies in an interview that he was running late to meet up with his parents at the theatre, and TEXTED the defendant to give him a head's up. The defendant
TEXTED BACK
, telling his son that he and his wife were already in their seats. Matt Reeves -
himself
a
Tampa
police officer as his dad once was, had walked into auditorium 10 minutes later, just as the shooting was happening.
Let me remind you that all of this texting was taking place during the
previews
. Curtis' next pretrial hearing is scheduled for
July 9th 2014
. He is charged with second-degree murder and aggravated battery, though no trial date has been set. A Fall trial is likely. His lawyer's motion for bail was
denied
in February and Reeves remains in jail where he belongs. His claim of
"self-defense"
was also denied. Reeves' lawyers have continued to
seek bail
for their client.
Funny thing in a STAND-YOUR-GROUND state such as FL.