Targeting Cops

gave initial coverage to the senseless murder of a Brooklyn man back in November 2014. Gunned down as he descended the stairwell of an apartment complex, his girlfriend right by his side. Now, the vile wretched pig who murdered an innocent man in cold blood has been INDICTED, finally!
Officer Peter Liang was indicted by a Brooklyn grand jury on Tuesday February 10th 2015 on criminal charges of second-degree manslaughter, according to many sources. Liang was also charged with reckless endangerment, second-degree assault, and official misconduct. If convicted, it could mean up to 15 years in prison for the worthless pig. It's still a long shot, but let's hope for the best!
27 year old Liang was a rookie cop who had been a gang member of the New York Police Gestapo (NYPG) for less than 18 months. He, along with partner Shaun Landau were conducting an unauthorized "vertical sweep" of the Louis H. Pink housing complex back on November 20th. As the two cops headed up the complex's stairwell, Liang, for no particular reason, had his Glock 9mm drawn in one hand, and a flashlight in the other (according to reports at the time, the elevator was out of service and the stairwell was dimly lit). At the same time Gurley 28, along with his girlfriend Melissa Butler 27, had just left Butler's apt. Since the elevator reportedly did not work, the couple entered the stairwell. Liang had just entered the 8th floor landing when he spotted Gurley, who was on the seventh floor landing. Without any warning or command what so ever, Liang fired one shot, hitting Gurley in the chest. The victim stumbled down to the fifth floor where he collapsed. Butler knocked on a resident's door, who then called 911. By the time Gurley was taken to a hospital, he was pronounced dead.
A simple cop fuck-up. Happens every day. But what made this case soo
particularly

horrendous, is that right the shooting, neither Liang nor Landau called 911. What Liang did instead, was call his union representative, to ask him what he should do. For six and a half minutes, neither cop lifted a finger to help Gurley. And during that whole time, the two cop's commanding officer and an emergency operator tried in vain to contact them. And to make matters even worse, the two cops were not supposed to have been in that stairwell, anyways! Deputy inspector Miguel Iglesias, then head officer of the police regime's Housing Command, had ordered his officers NOT to conduct vertical patrols! Officers were instructed only to do exterior patrols, and if they were to enter the building, they were not go beyond the first floor lobby. So neither Liang, nor his partner had any damned business inside that complex in the first place - much less its stairwell.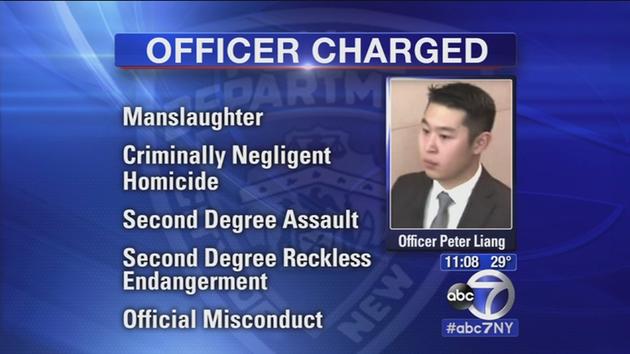 Covering his ass: Officer Liang along with his cop lawyer (courtesy of the police union), leaving the 84th Precinct in Brooklyn, where he turned himself in Wednesday Feb. 11th. After being booked on manslaughter charges and attending a court hearing, Liang was released without having to post bond.
MURDERER! Family of Akai Gurley, including his aunt Hertencia Petersen (forefront), openly express their outrage during Liang's hearing on Wen. Feb. 11th. Liang pleaded not-guilty to his charges.
People demonstrate outside the 84th Precinct on Wen. Feb. 11th, demanding sturdy and continuous accountability for not only Akai killer, but all terrorist cops.
Akai Gurley's girlfriend Melissa Butler seen here. She was right next to Gurley as he was shot in the chest by Liang on Nov. 20th 2014. As Liang was busy trying to get his story straight, Butler watched her partner die.
Gurley's domestic partner and mother to his two yr. old daughter, Kim Ballinger, seen here. Ballinger has filed notice to sue the city and the police dept. for $50 million.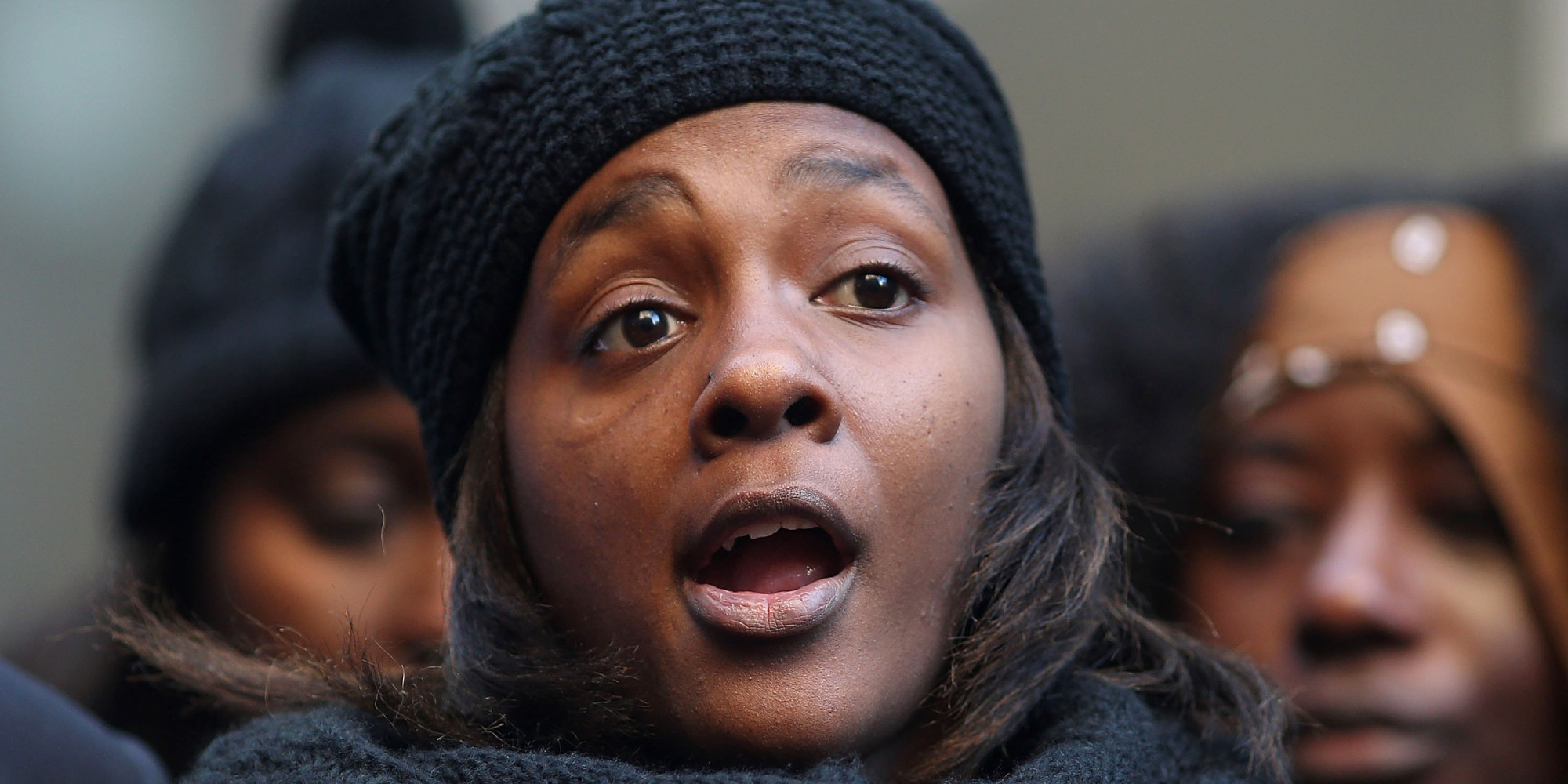 After the grand jury's decision, Liang turned his sorry ass into the 84th Precinct in Brooklyn on Wednesday Feb. 11th. He was booked on, and plead not guilty
to his criminal charges. He was released without bail later on, pending future court dates. Meanwhile, the mother of Gurley's two year old daughter, Kim Ballinger, is planning a $50 million suit against NYC as well as the NY terrorist police regime.
Prosecutors in this case are undoubtedly going hard and heavy on officer/defendant Peter Liang, as well they should. Basically they are doing their job. But the problem is that prosecutors so rarely DO THEIR JOB, where in comes to prosecuting cops who engage in wanton criminal behavior. In fact, many a debate online, as well as various articles are openly questioning whether Liang were simply being thrown under the bus. Make no mistake, Liang had absolutely NO excuse for what he has done. Neither he, nor his partner
Shaun Landau
(who received
immunity
from prosecution, in exchange for his testimony against Liang) had any reason to have been inside that building on that night. Liang had no reason to have his service weapon drawn, with finger on trigger, as he was in no sort of danger. And after shooting Gurley, did not call 911. called his union rep. instead, attempting to cover his own sorry worthless ass. While he was doing this, another resident of that building called 911. Butler gave Gurley CPR, as he was dying. Liang is without excuses. However, he has NO LESS of an excuse than other NYC cops who have taken the lives of innocent people, yet have continued to keep their jobs (if they were ever punished at all). It goes without saying that Liang is an Asian American/Person of Color. So, many have openly speculated whether this brown-skinned "
rookie
" cop is simply being offered up as a sacrificial lamb. Particularly in the wake of certain national events involving the police murders of innocent people - mostly Blacks being killed by White cops.
Liang currently finds himself in the unfortunate role of scapegoat, but it should be about that. Liang is a psychopathic, callus, murdering piece-of-shit cop and that pig deserves every bit of misfortune coming his way. But there are many other murdering, piece-of-shit cops who should be standing right along side Liang, facing criminal charges! Eric Garner's murderer Daniel Pantaleo being just one of them.