The ruthless, gruesome shotgun murder of Renishia McBride had initially been addressed by

Targeting Cops

back in November 2013.

TC

revisited the McBride case again in May this year with an update regarding her killer's [then] upcoming trial. Now, for some good news: McBride's murderer has been found GUILTY!
After a trial lasting about three weeks, the cowardly sniveling killer of McBride - Theodore Wafer - was found guilty of 2nd degree murder, voluntary manslaughter, and a felony weapons charge. The verdict was handed down on Thursday August 7th 2014. Wafer's sentencing date has been scheduled for between Aug. 25th, according to Wayne County prosecutors.
Brief recap, many of you should know the details by now: On late night November 1st 2013 Renisha McBride - a 19 year old Black woman - was heading back home from a friend's house. The entire incident took place in Dearborn Heights, MI, a suburb of Detroit. At some point McBride, who was legally drunk at the time, had lost control of her car and crashed. She survived, but was dazed, bloody, and had sustained a head injury. She exited her vehicle and walked in the dark for several hours until she ended up on the doorstep of Ted Wafer's house at around 4:30am that morning. Wafer awoke to McBride knocking or banging on his front door. McBride was injured, confused, and was seeking any sort of help. However, when Wafer opened his steel front door and saw McBride, instead of helping a startled, dazed, and injured young woman, he took the Mossberg 12-gauge shotgun he already had in his hand, pointed it at McBride's head, and blew her away without a moment's second thought. He shot her through a screen door, which hadn't been open.
Wafer waited a little while before deciding he would bother calling 911. When police and emergency personnel arrived at the scene, they found McBride lying in the front yard, a few feet away from the front porch - dead - with part of her face destroyed.
Wafer wasn't arrested right away. In fact it would be nearly two weeks before that happened, and then only due to insurmountable community outrage. The pisspoor excuse Wafer initially provided authorities was that his gun had gone off "accidentally". But he changed his story once he discovered that Michigan had a "Stand-Your-Ground" law, a week and a lawyer later. Now this racist monster was claiming "self-defense"; claiming that he was in fear of his life from this petite, 100+ pound 19 yr-old woman.
Wafer was probably thinking: if it worked for (POS)Zimmerman, it should work for him too. And honestly, who could have blamed him for thinking such a thing?
Well, it didn't work! Shortly after Wafer was [finally] taken into custody in mid Nov. 2013, he was indicted on charges of 2nd degree murder, voluntary manslaughter, and a felony weapons violation. His murder trial began on July 21st and he was convicted of those charges on Aug. 7th. Wafer is now awaiting sentencing in which he could possibly face up to life in prison... GOOD! Upon listening to the verdict being announced in court, Renisha's parents - Monica McBride and Walter Simmons, were relieved that they finally were able to see some measure of justice for their daughter.
"I wanted justice. "You know, looking at him to know that justice needs to be served. You did cold-blooded murder. That was murder! That was no accident. That was not self-defense. He did murder!" - Monica McBride, Renisha's mother, giving a statement after hearing Wafer's guilty verdict in court.
"He was a cold-blooded killer. He didn't even know her. She was a beautiful young lady, you know. She had things going for her." - Walter Simmons, Renisha's father, commenting on the guilty verdict of his daughter's murderer.
Justice for her daughter: Renisha's mother Monica McBride gives a tearful statement during a post-verdict press conference.
Renisha's father, Walter Simmons, speaking to reporters back in Nov. 2013, after criminal charges were filed against his daughter's murderer.
Racist chump... look at you NOW: killer Ted Wafer listens to the evidence that would eventually be used to convict his sorry peckerwood ass during a court hearing back in the Spring.
Patrick Muscat, assistant prosecutor in Wafer's murder trial, presents his closing arguments in a Detroit courtroom on Aug. 6th.
Athina Siringas, asst. prosecutor, delivers closing arguments in Wafer's murder trial.
She gave it her best 'shot': Wafer's defense attorney Cheryl Carpenter holds up a screen door in a vain attempt to try and convince a jury of her client's innocence. So much for THAT!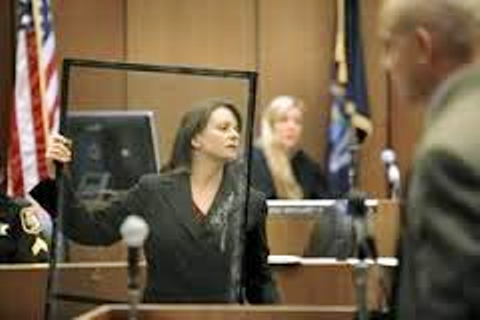 It has been reported that Wafer was shocked at his conviction. And of course he was - a White man having actually been found guilty under criminal court of law for shooting a Black woman is infact pretty goddamned shocking. Considering that the prosecution team (save for Wayne County prosecutor Kym Worthy) is White, as well as the jury (of Wafer's own peers, assuming, since Blacks are so rarely ever allowed on juries). And also considering the track record of this miserable so-called "democracy" in which we all find ourselves ensnared. Frankly, he's not the only one who was shocked. Wafer's lawyer, Cheryl Carpenter, has decried that even a 15-year prison sentence would essentially be a "death" sentence for her chickenshit client... given his age (Wafer is 55. 15 years would not be a fucking death sentence, so his lawyer can STFU).
Well here's hoping Wafer doesn't even last that long. Hopefully his sorry peckerwood ass will end up getting beaten to death within his first year in prison - and he would deserve it too!
DEATH TO COWARDS, RACISTS, AND THOSE WHO MURDER THE INNOCENT!!!
http://michigancitizen.com/theodore-wafer-faces-murder-charge-for-mcbride-death/
Aw shucks: newly minted jailbird Wafer bemoans his lot in life, after listening to a jury hand down his guilty verdict. Maybe the Aryan Brotherhood will protect him in prison.
In remembrance of Renisha...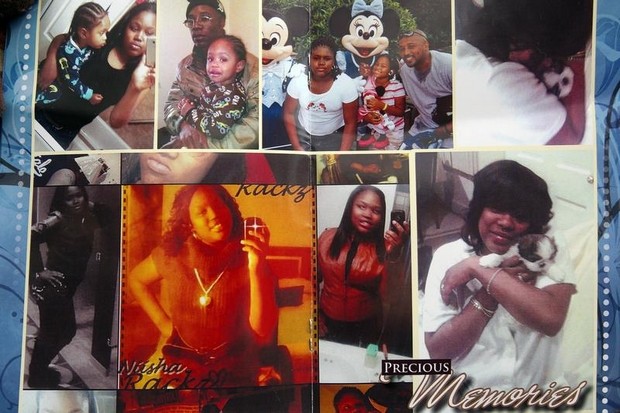 **********************************************************************
That Renisha McBride's killer would not only see his day in court, but actually be CONVICTED of her murder is a rare moment of American justice, indeed. That said, moments such as this should never be taken for granted. When police arrived at Theodore Wafer's home on Nov. 2nd 2013 and found a dead young woman laying in his lawn with part of her face missing, they did not arrest him right away. Not even the next day. Wafer hadn't been arrested and charged with a crime until Nov. 15th - damn near two weeks after the fact. And even then, only after much pressure from local citizens, as well as a shitload of national coverage. Wafer was a piece of White trash and he was afforded every benefit of doubt. Even now, people should not breath a sigh of relief because who knows what this bastard's sentence will be...
And just think about this... what if Wafer had been a goddamned cop...
The FACT is, Whites who murder people of color, are then arrested, prosecuted, convicted, and sentenced to lengthy prison terms is FUCKING RARE! And as far as cops themselves ever seeing significant prison time for murdering POC...
At the time of this latest blog's entry, 18 year old Michael Brown would have just been murdered by a filthy pig-beast (since identified as officer Darren Wilson) in Ferguson, MO. Just a few days later, Dante Parker would be tasered to death by cop thugs in Victorville, CA. Just a few weeks prior, Eric Garner would be choked to death by rabid police monsters in NYC.
This year saw the fourth anniversaries of the murders of Portland residents Aaron Campbell and Keaton Dupree Otis. Scars over the racist murders of Trayvon Martin, Aiyana Jones, and Oscar Grant haven't healed yet. And Lovelle Mixon, Maurice Clemmons, and Christopher Dorner are among the few martyrs/heroes citizens have to look to for inspiration.
Pretty damning article published on DeadSpin shortly after Michael Brown's murder on Aug. 7th. Read here:
http://theconcourse.deadspin.com/america-is-not-for-black-people-1620169913