Well it's happened yet again.
An innocent young man has been executed by police terrorists, this time in Ferguson, Missouri. The innocent victim has been identified as Michael Brown - 18 years old. He had just graduated high school, and was set to begin technical college classes this week. Brown's murder took place in Ferguson, MO, a suburb of St. Louis. He was mercilessly gunned down by a gang member of the Ferguson Police Gestapo (FPG). Brown's murder had taken place on Saturday, August 9th 2014. The filthy piece-of-shit cop who killed Brown has not been identified as of yet. But here is one very familiar theme: the cop is White. The victim was Black.
Too fucking young: Michael Brown seen here in this recent photo. 18 yr. old Brown had just graduated high school, and was scheduled to begin college classes just days before he would be gunned down by a racist, bastard-ass cop. The cop remains unidentified.
There are some conflicting details regarding this latest police murder. The so-called "official" police report/spin/propaganda/ass-covering, was that Brown had "fought" the officer inside said officer's patrol car and attempted to grab the officer's firearm, and thus [Brown] had been shot by the officer in self-defense. As an 18 year-old kid who just had his high school graduation and was about to begin college courses, attacking a heavily armed cop inside his own patrol vehicle and attempting to grab said pig's gun - that makes "perfect sense".
But as we all know from just as recently as the Eric Garner murder...

COPS FUCKING LIE

!!! According to various citizen witnesses and his own friends, here's what most likely ACTUALLY happened: Brown, along with his friend Dorian Johnson, were walking along the middle of a residential road with few if any other vehicles. The two were suddenly approached by an unidentified cop in a patrol car, who immediately met the two youths with hostilities - ordering them to "

Get the fuck on the sidewalk!

" One of the youths replied that they were simply heading to Brown's grandmother's house and were but a minute away from their destination. After this the cop sped up, made a sharp u-turn, doubled back, and drove at the two - stopping just short of running them both over. The cop then violently swung open his driver side door (using it as a weapon) which actually had hit Brown. This cop then reached his arm out and physically grabbed Brown by the neck, attempting to force him into the car. Brown managed to yank himself free, at which point the cop exited his vehicle with his gun drawn. The two youths immediately surrendered, putting their hands up. Despite this the cop began firing his weapon at them. Brown and Johnson fled for their lives, with the cop giving chase. At some point Brown was hit once by gunfire. Brown then halted and partially collapsed, but still holding both hands up yelling that he was unarmed. The cop then shot Brown several more times, killing him. Johnson continued to flee, barely saving his own life. Reportedly, the reason Brown and Johnson had initially garnered the attention of this cop was that they were indeed... walking in the street.
Like seriously, this was their "crime"... walking in the middle of a residential street on a Sat. night. For this, Brown had been shot eight times and Johnson had to witness his friend's execution.
Scared he was going to die: Michael Brown's friend Dorian Johnson seen here. Johnson was with Brown when they were both attacked and fired upon by a violent gang member of the Ferguson Police Gestapo on Aug. 9th. Brown was shot and killed. Johnson managed to escape with his life.
This account came from Johnson himself, a direct eyewitness who was also being shot at. Several other witnesses have also corroborated Johnson's account of what really went down that Sat. night. Listen to and watch Johnson's account HERE. After Brown was killed, his dead body was left in the street for more than four hours. Brown's mother Lesley McSpadden was prevented from seeing her own son, and racist police officials refused to even provide her with any information.
Brown's grieving mother Lesley McSpadden(left) seen here being consoled by her husband Louis Head.
Michael Brown Sr.(left) seen here holding a photo of his son.
Terrorist skinhead gang members of the St. Louis County police Gestapo stand guard with automatic assault weapons during neighborhood protests following Brown's murder Sat. night.
Local residents peacefully gather at the crime scene where Brown was gunned down by a Ferguson police thug on Sat. Aug. 9th.
News of Michael Brown's murder swiftly spread throughout Ferguson, resulting in emotional and heated protests. Gang members of both the Ferguson police gestapo and the St. Louis County police gestapo responded to what had been initially peaceful demonstrations, with violence and shock tactics. Reportedly, some individuals had taken it upon themselves to engage in sporadic acts of alleged looting Saturday and Sunday night. Despite this, reactions to the racist murder of Brown were largely peaceful, and any violence that had taken place was on the part of occupying police terrorists. By Monday Aug. 11th, virtually all of Ferguson was an Occupied Police Zone (OPZ). Heavily armed police gestapo were using tear gas and rubber bullets against peaceful protesters that same day.
Mainstream corporate media has already done its part to not only protect the criminal police elements of St. Louis Co., but also put a racist spin on the entire situation. This was done primarily by smearing residential protests as "riots", and over-emphasizing [alleged] acts of looting and localized yet isolated property damage. However, let it be crystal clear about what has happened in Ferguson - an innocent 18 yr. old who had committed NO crime and was a threat to NO one, was ruthlessly murdered by a goddamned cop. This filthy pig's identity remains protected by the local authorities, for the time being. All that has been mentioned regarding this criminal officer, is that he is White and has been placed on "administrative leave" (i.e. paid vacation).
It is very much worth noting that in this Ferguson racist killing, several references to Trayvon Benjamin Martin have been made. That is because even though 17 year old Trayvon was visiting with family in Sanford FL when he was hunted and murdered by racist vigilante coward George Zimmerman in Feb. 2012, his father Tracy Martin had once been a resident of the city of St. Louis. In the wake of Brown's murder, Tracy Martin has called for calm for the city of Ferguson, a suburb of St. Louis. Also Benjamin Crump, the attorney who had represented Martin's family, has now been retained by Michael Brown's family. There are also several other similar ties between the Martin and Brown murders, which have been pointed out.
Civil rights attorney Benjamin Crump has been hired to represent the family Michael Brown. Crump is best known for representing Trayvon Martin's family.
A parent's pain: Sybrina Fulton and Tracy Martin, parents of Trayvon Martin, have reached out to Michael Brown's family in the wake of this latest racist police murder.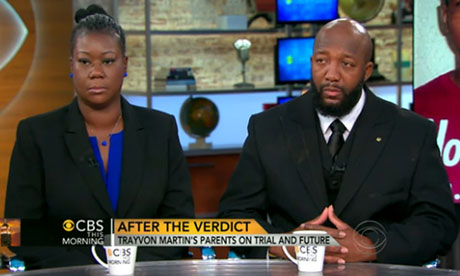 St. Louis Co. police chief piggy Jon Belmar LIES to reporters over Brown's murder. Belmar has refused to release the name of the police thug who murdered Brown.
http://www.vice.com/read/michael-brown-st-louis-suburb-ferguson-missouri-americas-latest-racial-hotspot-812
It is also worth noting that Ferguson, MO has a serious fucking racism problem in regards to its residents and the police regime. Ferguson has an estimated population of over 21,100 residents. Of this, 67% are Black. The police force there - the Ferguson Police Gestapo (FPG) is nearly all White. And apparently, almost none of these cops even lives within the St. Louis suburb itself. It has also been reported that a number of Ferguson police gang members are Southern transplants, so that all but guarantees that they are racist!
Let's seen how this one plays out...