Well it is the holidays, yet there has been no lull in the murdering of innocent Blacks at the hands of cops. 18 year old Antonio Martin was gunned down by a vile pig on Tuesday night December 23rd 2014. The murder occurred in Berkeley, MO ... two miles from Ferguson. It is alleged that Martin had a gun and "pointed" it at the cop. But of course, this is the claim of the police.
Another one gone too young: 18 year old Antonio Martin seen here.
There is surveillance footage of the incident. However, it is not particularly good footage. CCTV surveillance can be viewed here. It was shot at at gas station where the incident occurred Tuesday night. It is of poor quality, with a couple of individuals near what appears to be a patrol car, way in the background. A zoomed in (but non-enhanced) version of this video can be seen here. The video is about one minute long. Once zoomed in, it becomes much more grainy. In the last few seconds, an individual (claimed by police officials to be Martin) appears to be raising his arm. And that's it... that is where the footage ends.
Hardly anything conclusive can be drawn from this video. Yet, this blurry-ass video is suppose to be the "smoking gun" proof that the murder victim had pulled a weapon and pointed at an officer, before said officer fired several shots, killing Martin in the process
.
A woman identified as Martin's mother appears at the scene of the crime, visibly distraught.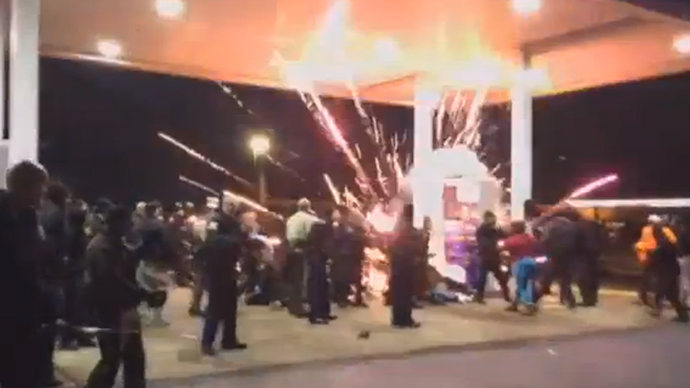 You know, what would be nice is if dashboard camera footage from the police patrol car could be made public. The murder victim appeared to be in front of the car at some point. Clearly, video from this camera would be of higher quality, and provide a much better insight as to what actually happened that night. As of now, that video has not yet been released. The identity of the cop who gunned down Martin has not been released yet, either. As of the publishing of this entry, all that is known about the pig is that he is White and is a gang member of the Berkeley Police Gestapo (BPG). Meanwhile, a group of justifiably enraged protesters gathered at the gas station where Martin was murdered. Protesters clashed with, and defended themselves against violent rabid cops. Details from this latest police killing are still unfolding.

Targeting Cops

will revisit this case soon...