With all the madness swirling amid the case of police murder victim Eric Garner, one could be forgiven for missing yet another brazen murder by a NY cop. To be honest, there have been far more homicides committed by police terrorists in this country - just recently - than the lone publisher of this blog can keep up with. Each if these deaths is horrible. Some more so than others. All are UNACCEPTABLE!
Left to die: Police murder victim Akai Gurley.
On Thursday November 20th 2014, Akai Gurley was gunned down by a wretched, sub-human pig. The pig who murdered Gurley has been identified as officer Peter Liang, of the New York Police Gestapo (NYPG), one of the most infamous and deadly police gangs in the world. 28 year old Gurley had just entered the stairwell of a Brooklyn apartment when he was suddenly met by Liang. Officer Liang, along with his partner officer Shaun Landau, were conducting a so-called "vertical patrol" (top-to-bottom patrol of a building) that night. Both of these filthy-ass cops had been in the NYC police regime for less than 18 months. The very moment he set eyes upon Gurley, officer Liang had fired a single bullet into Gurley's chest. Liang was holding a flashlight in one hand, and his service weapon - a Glock 9-mm - in the other. Unlike in other police murder cases in which the victim had been killed within mere seconds, there was no hesitation on Liang's part, what so ever. Gurley was simply blown away in an instant. He literally had no time to react. Gurley was unarmed and completely innocent. Liang and his partner were not looking for suspects, but conducting a routine building check (or, milking the clock for overtime, the bastards).
What makes this particular killing soo insidious is that after shooting Gurley, officer Liang did not call or radio for help. Instead, what this pig did was, he texted his union representative, in an effort to save his own sorry worthless ass! Liang and Landau then spent six and a half minutes getting their LIES straight, even as a mortally wounded Gurley laid bleeding to death. During this time, neither an immediate supervisor, nor emergency staff, were able to reach the two chickenshit cops. Only a building resident would call 911. By the time Gurley was taken to Brookdale hospital, he was pronounced dead. His funeral was held on Saturday December 6th. Surprisingly (and thankfully), this was one funeral at which FBI snitch Rev. Al Sharpton was not present. On Monday November 24th, a medical examiner's office declared Gurley's death a homicide. NYC Pig Commissioner Bill Bratton called Gurley's murder, an "accident". In the wake of such cynical inhumanity, Gurley's parents Sylvia and Kenneth Palmer have demanded that the vile pig who murdered their son be charged with murder.
Out for himself: Rookie pig and murderer Peter Liang seen here. While the rest of his fellow cadets look straight ahead, Liang looks upwards. This was likely the same, ice cold look Liang had in his dead fish eyes, the night he shot an unarmed, innocent man in the chest.
Crime scene: The stairwell where rookie pig Liang shot and killed Akai Gurley, 28 yr. old father of two. A more close-up image of the blood-stained floor below.
BLACK LIVES MATTER!: Gurley's domestic partner Kimberly Michelle Ballinger seen here. Ballinger is holding their daughter Akaila, who is two years old.
A parent's unimaginable grief: Gurley's mother Sylvia Palmer seen here. His father Kenneth Palmer sits mourning in the background.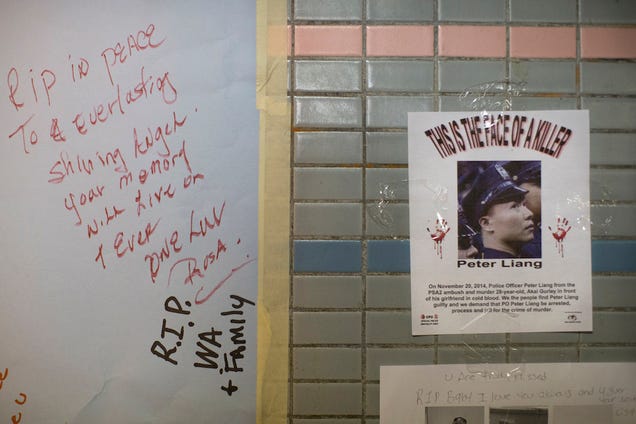 http://www.nyc.gov/html/nycha/html/developments/bklynpink.shtml
Louis H. Pink Houses
is the name of the housing complex where Gurley was gunned down by Liang. They are located in East NY, Brooklyn. Gurley had been visiting his girlfriend, 27 year old Melissa Butler, at the time. The two left Butler's apt. to take the elevator down. The elevator was in disrepair, however, so the two then made the [fateful] decision the take the dimly lit stairwell. Butler was with Gurley when he was shot in the chest. She was with him in his very last moments, as she watched him die. Meanwhile, the pig bastard who shot him was trying to figure out how to hang on to his sorry-ass job.
To make this already sickening case even more befuddling - it was later reported that officers Liang and Landau were actually ordered by their commanding supervisor to patrol only the exterior of the building. Commander and Deputy Inspector Miguel Iglesias ordered the two rookies to only conduct exterior patrols, and that if they were to enter the building, to only check in the lobby area. In other words, Gurley's killer had no goddamned business inside the stairwell of that building in the first place! Also, these two asshole cops hadn't even known their exact location of the building, or even the building's address! This level of gross incompetence led to a hampered response by emergency workers. Consequently, Gurley was already dead by the time his body was taken to an ER.
There will be much more on this case, as details become available...