If there is one thing more rare than a cop facing criminal prosecution for anything, it is a cop crying. At least, a cop being caught on camera crying. Well, that is exactly what happened in the case of one Montana pig, who "broke down" after shooting an innocent man. Well, boo-hoo for him, no doubt he was all broken up about it. As for the man officer Crybaby murdered... well, that sucks for him too.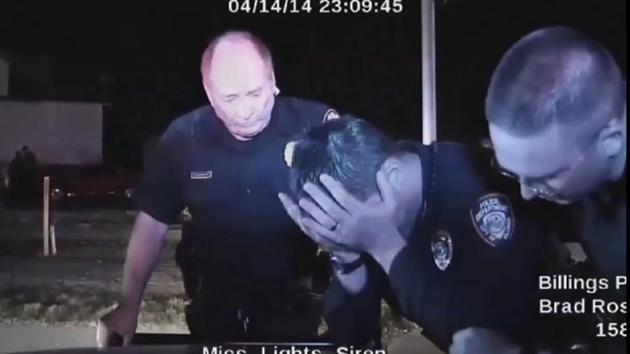 The crybaby cop in question is officer Grant Morrison, five-year gang member of the Billings Police Gestapo (BPG). The man Morrison murdered was 38 year old Richard Ramirez. The killing had actually taken place in April of last year. However, a dash cam video capturing the sobbing cop has only recently been publicly released. On the night of April 14th 2014, officer Morrison had pulled over a car with four men inside. One of those men was Ramirez, said to have been a passenger. Reasons remain unclear as to why Morrison saw fit to pull the vehicle over in the first place, identities of the other three men in the vehicle were never released. The cop had demanded all four men show their hands, but that Ramirez did not. Morrison claimed that he saw Ramirez "lowering his arm and reaching towards his waist band", so Morrison claims... guess no one will ever really know for sure. Morrison also claimed he thought Ramirez might have had a weapon. After ordering him to show his hands a few times, Morrison shot Ramirez in the chest three times. It later turned out that Ramirez had indeed been unarmed. He was alleged to have been high on methamphetamine, at the time. [It must be noted that Morrison's interactions with Ramirez that night were never fully caught on camera. And it has never been explained why Morrison could not have employed a "less-than-lethal" device, such as his taser. So, it is merely Morrison's word against that of Ramirez. And obviously, only one of them is talking.]
Upon realizing that Ramirez did not have a weapon, Morrison broke down, crocodile tears and all. This pathetic display was captured by the dashboard-mounted camera of another patrol vehicle, as several other cops arrived on the crime scene.
Cry me a river: Billings Cop Grant Morrison seen here, still red-faced from a recent crying spell, most likely.
Happens to White men, too: Police murder victim Richard Ramirez, seen here. He was gunned down by officer Morrison last April - an altercation stemming from a simple traffic stop. Ramirez was later found to have been unarmed. A MT grand jury recently cleared Morrison of wrong doing.
Julie Ramirez (left) and Bettie Ramirez, sister and mother of the deceased, sit anguished in a Billings courtroom during jury proceedings at a coroner's inquest into the police murder of Richard Ramirez. The Ramirez family attends to file a wrongful murder suit against the Billings Police Terrorist regime.
On Wednesday January 7th, a grand jury in Billings declined to bring a criminal indictment against officer Crybaby. Ramirez's family however, was understandably distraught by this decision. They strongly criticized the inquest as biased and one-sided. One of Ramirez's sisters, Renee Ramirez, said that testimony about her brother's past alleged drug use was irrelevant (which it is). Also, all but three of the 15 people called to testify during the inquest were vile, wretched cops. Every cop testified about his past "interactions" with the deceased. It is also well known that cops routinely LIE and purger themselves on the witness stand, in court. They also do this with total impunity, so there is that. In the wake of the jury's decision, the Ramirez family announced that they plan to file a wrongful murder suit against the Billings Police Terrorist regime. Officer Crybaby probably had spent most of 2014 thinking his career was over with... after shooting a White man. Now, he has nothing to cry about.
Billings Gestapo Police chief/obese pig Rich St. John seen here. According to chief St. John, this was the fifth police killing in Billings in a past eight years he was head of the regime. All of them were found by grand juries to have been "justified".
Incredibly, this isn't even the first time officer Crybaby has killed... though it is likely the first time he has cried about it. On February 11th 2013, Morrison shot and killed
another
man, Jason James Shaw, during a routine traffic stop. On that day, Morrison claimed that Shaw "had a crazed look in his eye", and thus, had to shoot him. Shaw was reported to have been 32 years old at the time. Morrison shot him in the stomach, and he died at a local hospital later that day. A toy bb gun was said to have been found in Shaw's coat pocket later on, though he never pulled it out. Officer Crybaby was cleared of any wrong-doing in that murder, as well. Further details on James Shaw's murder can be read HERE.
Dash cam video which captures part of th

at

incident can be viewed HERE.
Officer Crybaby's first victim: Jason James Shaw seen here. Shaw was gunned down in Feb. 2013, during a typical traffic stop. He was unarmed.