On Friday, MayDay 1st 2015, it was announced that the six monsters implicated in the murder of Freddie Gray would all face criminal charges! The announcement was made by Maryland's state attorney during a highly anticipated Friday morning press conference.
Cops being charged with any crime relating to the death of a citizen - even one who was completely innocent - is a rare act, indeed. And perhaps it happened this time because some of the pigs involved are themselves Black
(and self-loathing).

Maybe because the very nature of what was done to the victim was so horrific, so egregious that something had to be done. Maybe because Baltimore had been burning and under police siege for the past week. Maybe because this happened in the backdrop of soo many other high-profile police murders. Now begins the long arduous road to, what hopefully will resemble justice of some sort. Let's hope we do not get short-changed on this on.
Top row from left: Ceasar R. Goodson Jr., Garrett E. Miller, and Edward M. Nero.
Bottom row from left: William G. Porter, Brian W. Rice, and Alicia D. White.
As previously reported HERE on this blog, six gang members of the Baltimore Police Gestapo(BPG) had been placed on paid vacation, following their implication in Gray's horrific death. Those cops are as follows:
Lieutenant Brian W. Rice, 41.
Officer Caesar R. Goodson Jr., 45.
Sergeant Alicia D. White, 30.
Officer Edward M. Nero, 29.
Officer William G. Porter, 25.
Officer Garrett E. Miller, 26.
Ceasar Goodson
was the driver of the van which held Gray. He's been a gang member of the
Baltimore Terrorist Police
regime since 1999. He faces the most serious charges of: second-degree "
depraved heart
" murder, involuntary manslaughter, second-degree negligent assault, failure to render aid, and misconduct in office.
Garrett Miller faces multiple assault charges, as well as: false imprisonment and misconduct in office.
Edward Nero is charged with multiple counts of assault, as well as false imprisonment and misconduct in office.
William Porter is charged with: involuntary manslaughter, second-degree assault, and misconduct in office.
Brian Rice is charged with: involuntary manslaughter and second-degree assault.
Alicia White is charged with: involuntary manslaughter, second-degree assault, and misconduct in office.
It is worth noting that the dynamics of this particular case are a little different from most other cases of police murder. Typically the victim is a Person of Color - so, no change there! All the officers are White. And city councilpersons, the mayor, and district attorney are usually all White as well. But in Baltimore's case here, the city's mayor, 45 year old Stephanie Rawlings-Blake, is Black. The state attorney, 35 year old
Marilyn Mosby, is Black. The city's police commissioner Anthony Batts, is Black. And of the numerous cops involved, half of them are Black. It's also worth noting that the Black cops are more severely and heavily charged.
Even though infamous photos depict a limp and incapacitated Eddie Gray being dragged by three White cops. Hmmm...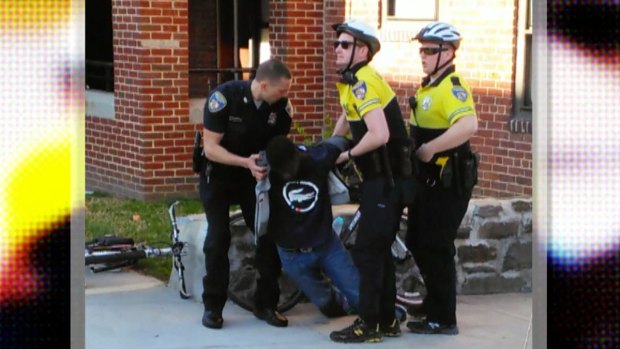 Baltimore mayor Stephanie Rawlings-Blake.
Maryland state attorney Marilyn Mosby.
Baltimore police commissioner Anthony Batts.
And in other news, Freddie Gray's death was officially ruled a homicide by the state's medical examiner. This ruling on Gray's cause of death was also announced on May 1st. His neck was broken and his larynx was completely crushed. He also had injuries to the back of his head.
In addition to this, it's also been revealed that medical attention was deliberately denied to Gray for at least 40 minutes. At some point Gray asked for an inhaler, but was never provided one. And contrary to prior erroneous news reports claiming that Gray was armed with a switchblade knife, it turns out that he only had a simple pocket knife. Perfectly legal to own in the state of Maryland. This knife played no part in Gray's illegal arrest. Initial police claims and media reports that Gray was engaging in "self-harm" while in the police van proved to be a LIE. It was later revealed that the van had made several stops before taking Gray to central booking. One stop picked up another prisoner, identified as Donte Allen. Police reports initially quoted Allen as claiming that he heard Gray "banging against the walls of the van". However, when interviewed directly by reporters later on, Allen sharply denied making any such statements. Watch an interview with Donte Allen HERE.
For the record, Allen had been initially arrested the same day as Gray for petty theft - allegedly stealing a cigarette. Allen denies he stole anything, and in fact was never charged. Allen remains free but is a crucial witness in this case. Like the individual who recorded Gray's violent arrest on his mobile device, Allen now faces potential retribution from police. He needs to stay safe and watch his back.