So this is becoming a familiar pattern - police kill innocent person, by-stander records police murder on video, releases video to public, outrage ensues, by-stander later arrested by vengeful cops. This case of police retaliation against citizens who dare to record police crimes has been well documented with the case of Ramsey Orta. And Feidin Santana, the man who captured the police execution of Walter Scott, is now having to watch his back and with damn good reason. Now, another brave citizen cop-watcher is dealing with the wrath of criminal police thugs. Kevin Moore, the man who recorded the infamous arrest of Freddie Gray on his mobile device last month, has himself been falsely arrested by Baltimore terrorist thugs!
Moore was arrested on Thursday April 30th, and later released. He was never charged with a crime. Moore, who lives in the same West Baltimore neighborhood as Gray did, captured the [latest] infamous video of Gray being dragged to a police van on April 12th. You can hear Moore in his video berating the animals as they rough up Gray. You can watch an Al Jazeera interview with Moore HERE.
Moore was unjustly arrested last Thursday night while riding in a car along with two other individuals, identified as Chad Jackson and Tony White. Jackson and White were reported to have been members of Ferguson Cop-Watch. Moore was later released without charge, while the other two men were said to have remained in custody.
Modern-day slave catchers: Baltimore thugs seen here loading Freddie Gray into an awaiting police van. Gray was arrested April 12th after he "made eye contact" with a cop, then supposedly ran away. During his detainment, Gray suffered a severe spinal injury which lead to his death a week later. Baltimore state's attorney Marolyn Mosby later described Gray's arrest as 'illegal' and 'lacking probable cause'.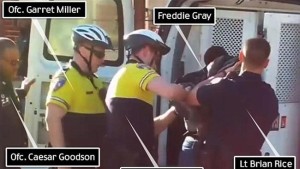 Police would later give the lame excuse that they simply wanted to talk to Moore as a "material witness". An obvious line of bullshit, as well as a typical cop lie. Cops also released an image of him to local media and evening news, saying he was a "person of interest". Moore says that this tactic was an act of intimidation, since he was already interviewed by police and they knew who he was. In fact, Moore insists that ever since his footage of Gray's arrest went viral, he has been the target of continuous police
harassment.
*********************************************
In other related news, A teenager who was seen on television using a traffic cone to smash the window of a police patrol vehicle turned himself into authorities. 18 year old Allen Bullock was captured by news cameras smashing a cop car window during street actions in the wake of Freddie Gray's funeral on Monday April 27th. After his photo was broadcasts, Bullock's parents urged him to turn himself in. Bullock now faces eight individual criminal charges and a possible life sentence. His bail is $500,000! This, for smashing the window of an empty police cruiser. Bullock remains in jail and his parents are too poor to afford even 10% of his insanely high bail. Meanwhile, the six monsters who have been charged in Gray's murder have all posted bond themselves, no doubt paid by their police union. All six pigs charged with, or in connection to Gray's murder had bail set at between $250K to $350K - significantly lower than the $500K Bullock now faces. All six of those cops were released from central booking on Friday May 1st.
*********************************************
And lastly, one of the six animals facing criminal charges in Gray's death also has a documented history of domestic violence, it's been revealed. Surprise, surprise! Former Lt. Brian Rice was once disciplined for threatening his ex-girlfriend's husband with an insane murder/suicide pact. In April 2012, Rice was forced to undergo a mental health evaluation after threatening to kill himself. Rice has also had personal weapons confiscated at least twice, according to court records. Andrew McAleer, a city firefighter and husband to Rice's ex-girlfriend Karyn McAleer, filed a complaint against Rice in January 2013. There was also an incident in June 2012, in which Rice showed up at the McAleer's home at around 2:00 in the morning, reeking of alcohol and yelling death threats. These multiple criminal/psychotic episodes have resulted in hospitalizations, guns temporarily seized, and restraining orders filed against pig Rice. But he was never arrested, nor did he lose his sorry-ass job. Rice should have been behind bars himself. But instead, he, along with multiple other cops, were allowed to continue their reign of terror unimpeded. Until one day, an innocent man got his spine broken... resulting in death.