My god it's hard to keep it, it really is.
We're [back] in L.A. again and we have [yet] another innocent Black man murdered by vicious cops. The video above shows a violent scene spiraling wildly out of control, ending in deadly police gunfire. A very petite woman is also depicted in the video, being tackled to the pavement by a thuggish pig easily twice her size, before being handcuffed.

*TRIGGER WARNING: VIDEO IS GRAPHIC in NATURE!

The video was taken by a citizen cop-watcher later identified as Anthony Blackburn.
Summery execution: Seven wretched cops with guns drawn seen here, surrounding a homeless man after they had just gunned him down.
The murder occurred on Sunday March 1st 2015 in the Skid Row section of Los Angeles, CA. Several gang members of the Los Angeles Police Gestapo (LAPG), were involved. Early reports did not identify the shooting victim - only that he was homeless and according to witnesses, went by the nickname 'Africa'. He has since been identified as 'Charley Saturmin Robinet', which apparently isn't even his actual name. According to follow-up reports, Robinet was a 39 year old French national who stole someone's identity and passport in order to enter the U.S. 15 years ago. He was reported to have been involved in an alleged bank robbery not long after entering the country. After his arrest, Robinet was sentenced to 15 years in federal prison and was released in May 2014. Robinet was shot 5 - 7 times by L.A. cops - none of which have been identified as of yet. Robinet was also reported to have suffered from mental illness, and spent time in a hospital at some point.
More on this, as the story progresses...
Charley Saturmin Robinet seen here.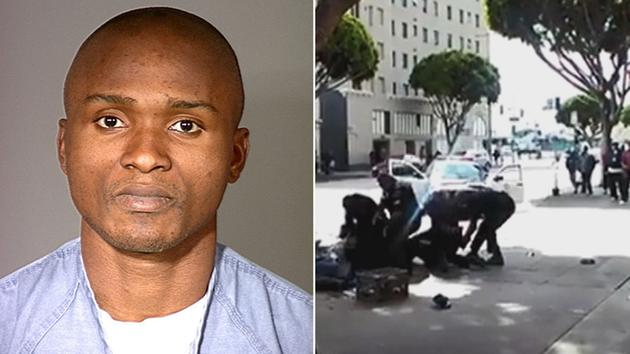 Where the murder took place.