A Mexican Farm worker was
murdered
in cold blood by sadistic pigs in Washington state. The murder occurred in the small town of
Pasco, WA
on Tuesday February 10th 2015. The victim has been identified as
Antonio Zambrano-Montes
.
Gang members of the
Pasco Police Gestapo
(PPG)
fired 17 bullets at Montes and he was hit 5-7 times
. Montes was 35 years old. He was not armed with any weapon and posed no threat to police.
Another racist police murder: Antonio Zambrano-Montes seen here.
Montes was allegedly throwing rocks at passing vehicles at a busy intersection. Montes, who grew up in Michoacan Mexico, had been working on an orchard farm in Pasco for the past decade or so. Reports say that he had a history of mental health issues, including depression and was likely enduring a mental crisis at the time of the incident. Cops on the scene claim that "low level force" including a stun gun was used to "no effect" (typical cop lie). Montes was continuing "threatening behavior", leaving officers with no choice but to resort to deadly force. However, video footage capturing Montes' last moments clearly shows the victim running away from cops, hands up before being gunned down. He was unarmed. That video can be viewed HERE.
Three pigs were directly involved in the execution of Montes. As part of standard operating procedure (SOP), all three pigs have been placed on paid vacation, pending investigation. They have been identified as:
Officer Ryan Flanagan
Officer Adam Wright
Officer Adrian Alaniz
Pasco residents take part in rally, protesting Antonio Zambrano-Montes' murder by police terrorists in February.
Ad for a rally held here in Portland, OR, in solidarity with Pasco residents demanding justice for Montes' murder.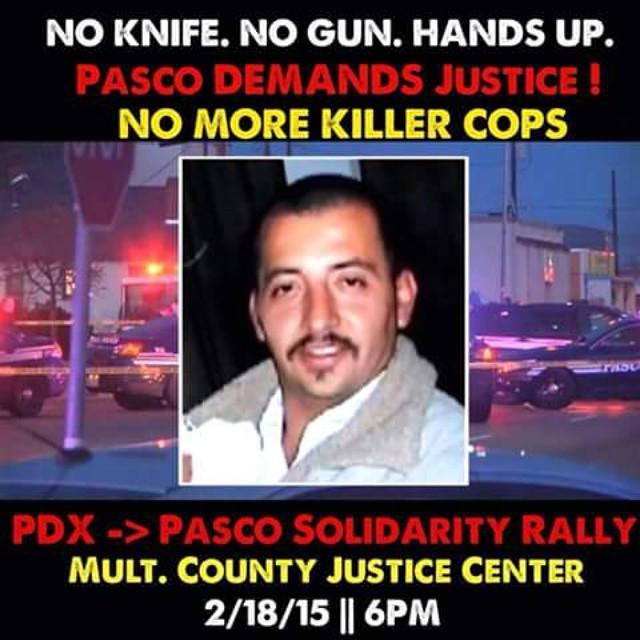 Montes' death at the bloody hands of cops has rightfully enraged local residents, and garnered national attention. Videos of Montes' killing by terrorist cops have been viewed by millions of people by now, placing an international spotlight on Pasco, as well. Numerous rallies in Pasco as well as other cities have decried the unjustified use of deadly force against unarmed citizens such as Montes. One particular rally held on Feb. 14th saw over 1,000 attendees. Days later, solidarity marches took place in Portland and Seattle.
Montes' death is but one in a series of high-profile racist cop murders of Latino people in the U.S. just this year. On January 26th 2015, 16 year old Jessica Hernandez was murdered by cops in Denver, CO. She was alleged to have been driving a stolen car - hardly a crime which warrants summary execution. She was unarmed and posed absolutely no danger to cops. Hernandez was an American citizen, born in Denver.
On February 20th 2015, a cop in Euless, TX murdered 31 year old Ruben Garcia Villalpando during an unwarranted traffic stop (driving while Brown). The victim was a documented Mexican national. He was unarmed. Villalpando was living in the U.S. legally and had worked as a mechanic for ten years, prior to his death.
Final note: the attorney who represented the families of Michael Brown, Trayvon Martin, and Tamir Rice, has also agreed to take on the Pasco case. Benjamin Crump will be representing the family of Antonio Montes for the foreseeable future. In fact, many people have already drawn comparisons between Pasco and Ferguson. Speaking of Ferguson, it is also worth noting that Pasco, WA has a population of about 68,000 people. Over 55% of residents are Latino/Chicano. Yet, the police force is mostly all White.
http://www.copblock.org/110033/pasco-police-kill-man-for-throwing-rocks/