Cops are known for committing some pretty horrifying, unspeakable atrocities, this is FACT. Beating helpless people to death is particularly gruesome. That such crimes are often documented on camera and video makes them all the more nauseating.
That these fucking monsters still flat-out get away with such crimes is too just much to take!
On July 10th 2011 Kelly Thomas was viciously beaten within inches of his life by gang members of the Fullerton Police Gestapo (FPG) in Fullerton, CA. They stuck a Taser in Thomas' face and electrocuted him 6 times. They crushed his throat and broke multiple bones. They beat him relentlessly with batons (deadly weapons) even after Thomas had been on the ground and completely subdued. Within ten minutes he was lying in a pool of his own blood. Thomas had NO drugs and NO alcohol in his body. He was never armed and never put up resistance. He begged for his life and called for his dad. Thomas was eventually taken to UC Irvine Medical Center in Orange, CA. where he was declared comatose. He died 5 days later.
Fullerton is a small city in northern Orange County with a population of over 135,000. If you're not already familiar with this case, the "before/after" comparison of Thomas below should speak volumes.
The fucking pig-monsters who did this to him were officers Jay Cicinelli, Manuel Ramos, and Joe Wolfe. I say 'were' because these cowardly monsters are no-longer employed as Fullerton cops - all three were fired as a direct result of what they did. Thing is, in this case a cop losing his sorry-ass job simply will not do!
Thomas was a homeless man who had been living on the streets of Fullerton for years. He suffered from schizophrenia. The pigs who murdered Thomas were initially responding to a 911 call of someone "breaking into cars" in the area. It later was revealed that call came from a manager at the Slidebar Rock 'n Roll Kitchen
. This is important see, because it also has since been revealed that Slidebar's owner, Jeremy Popoff, apparently had a policy of keeping away "undesirables" at any cost and that the restaurant itself is known for frequent cop calls (

some people have also openly suspected Slidebar to be an unofficial cop hideout. This has not been verified as of yet

). It later turned out that there were NO such break-ins and according to a former bouncer of Slidebar's, Michael Reeves, Thomas was doing nothing more than picking up cigarette butts and minding his own damn business. It is Reeves' assertion that Slidebar had a policy against homeless people and that the 911 call made that night was FALSE. Reeves was fired in September 2011 for talking to investigators and is currently suing his former employer for wrongful termination.
Interesting note: Popoff is also the lead singer in a local shit "alternative" Rock band called "Lit". Judging by the photo below, he is a grade-A douchebag.
Popoff has never been charged as an accessory to Thomas' murder. The manager who made the 911 call has never been charged with making a false report. Many citizens have nonetheless implicated the business and a facebook page has been set up, calling for Slidebar to be boycotted. GOOD!
Cop-calling scumbag POS Jeremy Popoff, wearing fedora, standing next to his attorney inside Slidebar.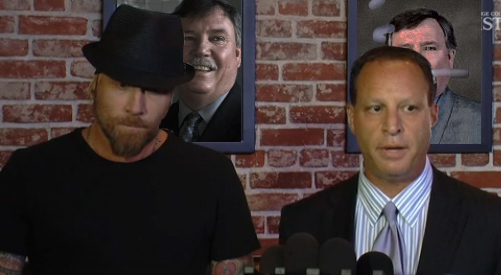 Michael Reeves, at a press conference announcing his lawsuit against Popoff and Slidebar.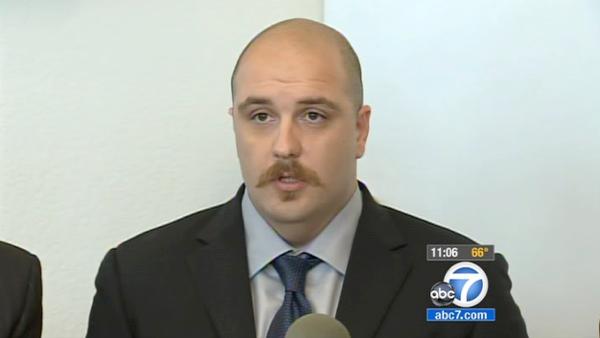 When Cicinelli and Ramos first arrived, they found Thomas sitting on a street curb near a bus station, close to the Slidebar.
Details remain less than clear after their initial contact with Thomas. Police reports have always maintained that Thomas put up "resistance", but anyone who's watched the gruesome surveillance video can see that police accounts were false. In the video, one can also see Thomas being besieged by multiple cops. Ramos can be seen putting on a pair of latex gloves in front of Thomas. It has also been confirmed that Ramos said to Thomas at this point, "Now see my fists? They're getting ready to fuck you up!". Thomas can be audibly heard begging and pleading for his life. At one point He's calling for his dad and begging for help, saying he can't breath. The electric shocks from the multiple Taser discharges can also be clearly heard.
Officers Cicinelli and Ramos seen here beating Thomas.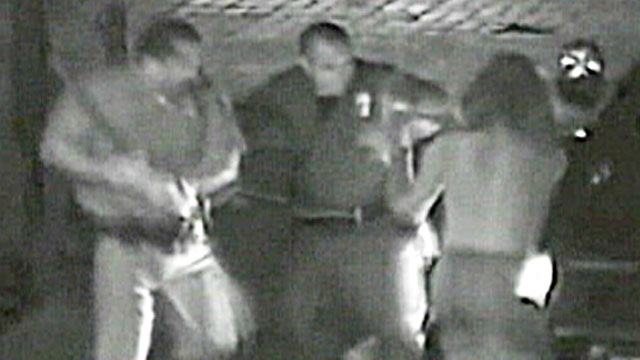 After Thomas died from multiple severe injuries five days after his beating, including broken ribs and skull fractures, citizens were outraged. Video of the assault went viral and Thomas' murder became internationally know. Cicinelli, Ramos, and Wolfe were all fired in July 2012. Rare that cops lose their jobs at all, but it's fucking outrageous still, that it takes a goddamn YEAR for even that to happen! Six Fullerton pigs in all were placed on "administrative" leave (paid vacation) following the brutal murder as well as the massive public backlash that ensued. Ramos was eventually charged with second degree murder and involuntary manslaughter. Cicinelli and Wolfe were both charged with involuntary manslaughter and felony excessive use of force. Ramos and Cicinelli's murder trial began on Dec. 2nd 2013. Wolfe's murder trial had been initially set for a later date.
http://www.dailymail.co.uk/news/article-2538966/California-police-officers-NOT-GUILTY-murdering-homeless-man-piling-screamed-air.html
On Tuesday January 14th, the unthinkable happened. A jury of 12 dipshit fucking idiot jurors found Jay Cicinelli and Manuel Ramos NOT GUILTY in the vicious, unmistakable murder of Kelly Thomas! Further more, the district attorney's office of Orange County announced shortly after the verdict that they would no-longer pursue a criminal trial against Joe Wolfe.
Yet another gross miscarriage of justice, but what the fuck else can one expect in this country? Immediately after the "verdict", Thomas' father, Ron Thomas (a retired police officer himself, incidentally), vowed that he would carry on with a civil suit against his son's killers. Thomas' mother, Kathy Thomas, declared that Cicinelli and Ramos "got away with murdering my son". Meanwhile, citizens have taken part in various protests in Orange County and throughout CA. Many have gathered at the bus depot where Thomas was murdered.
In Grieving: Kelly Thomas' parents, Kathy and Ron, shortly after hearing that the monsters who murdered their son would not be punished.
Justice Un-served: citizens, protesting on Thomas' behave react to the verdict.
These pigs love to add insult to grievous injury. as if literally getting away with murder was not enough for them, these filthy goddamn pigs have announced that they are "monitoring the internet" for so-called death threats, post Thomas verdict! You believe this shit?! They've got some goddamn nerve, no doubt about that. The one and only silver lining that might come out of this utter travesty is that the general citizenry might finally be waking up to the fact that we are all under the boot of a Gestapo Police-State!!!
********************************
This all brings to mind other cases of horrible injustice. Many have compared this to the ruthless beating of Rodney King by Los Angeles Police Gestapo (LAPG) in 1991. Those comparisons are valid, as both share some key obvious similarities. However, Thomas' murder bares an even closer, nearly identical semblance to a case here in Portland, OR: The murder of James Chasse Jr. in 2006. Except in Chasse' case it is even WORSE because the three disgusting pigs who beat Chasse to death were never fired, nor criminally charged! The three pigs who murdered Chasse are:
Portland officer Christopher Humphreys
Portland Sargent Kyle Nice
Sheriff's Deputy Brett Burton
Just thought people needed reminding, is all. Never forget, never forgive!
*********************************
Not the end, not by a long shot...