I won't call this an "anniversary" since anniversaries are typically things to celebrate.
It is still a fucking travesty, how ever one looks at it.
Five years ago today, on Thursday January 1st 2009,

Oscar Juliuss Grant III

was murdered by ex-BART pig Johannes Mehserle in Oakland, CA.
If you're reading this, then you likely know much of the details by now. Here is a briefer for purposes of historical record.
In the early morning hours of Thurs. Jan. 1st, 2009, Oscar Grant and several friends of his were out celebrating on New Years, as people all over the world were. They boarded a BART (Bay Area Rapid Transit) train, bound for the Fruitvale neighborhood in Oakland. A fight allegedly broke out between Grant's friends and another group of people (to this day, even this supposed fight has never been officially confirmed). BART police/gestapo were summoned. Various people, Grant included, were forced off the train. At some point Grant was subdued by officers at the Fruitvale subway platform. Grant was on his stomach, with his hands secured behind his back.
For purposes of context, Grant was not armed with any weapon. He was not resisting. He was no sort of "gang" member. He had a modest non-violent "criminal record" which showed how he had been victimized by the criminal-justice Matrix. He had a full-time job working as a butcher in a grocery store in Oakland.
At this point BART officer Johannes Mehserle, kneeling on top of Grant with his knee in his back, stood up, drew his service weapon, and fired one round into Grant's back point blank range. Grant was shot shortly past 2:00am Jan. 1st. He died at Highland hospital in Oakland the following morning. He was 22 years old. Pig Mehserle would later claim that he "thought" he saw Grant "reach toward his waistband". Mehserle claimed that he meant to use his taser, but grabbed his service weapon "by mistake". Yeah. Ok then.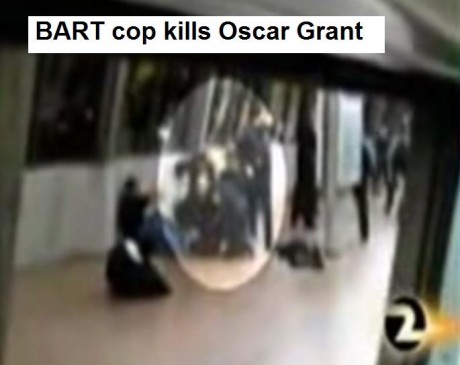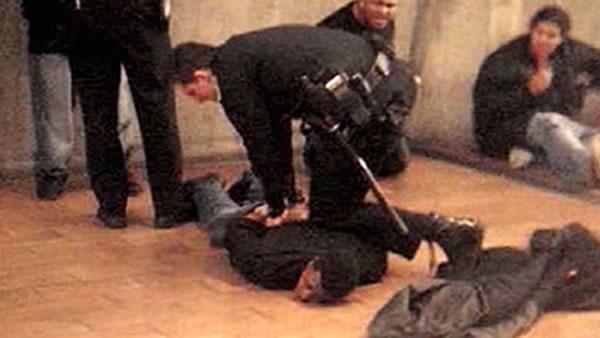 Seeing as how understandably crowded public transit was that night, dozens of witnesses managed to capture the entire execution on their video camcorders and cellular phone cameras. BART gestapo attempted to illegally confiscate citizen's electronic devices. Still, various copies of the video were uploaded onto the internet and already disseminated by hundreds of thousands of people by the next day. Within a week, Grant's murder would be seen by millions.
Grant is survived by his mother Wanda Johnson, father Oscar Grant Jr., fiancé, Sophina Mesa, and his daughter Tatiana Grant.
The miserable, cowardly pig, Johannes MEHserle, being lead into court on criminal charges. After initially fleeing to NV.
Mehserle immediately lawyered up with attorneys Michael Rains and Dylan Schaffer, to represent him. On Jan. 5th, Rains postponed a scheduled meeting between Mehserle and BART internal investigators, wanting to defer for another week. Investigators refused, however, and ordered Mehserle to meet with them for an interview/deposition on Jan. 7th instead. On that day, however, the only people to appear before the investigators were Rains and a BART officer's union rep., who handed in Mehserle's letter of resignation. By this point Mehserle, who had first joined BART in March 2007, was now an ex-cop and in hiding, claiming alleged death threats. The cowardly pig would be arrested in Nevada on Jan. 13th on a fugitive warrant. After waiving his right to extradition, Mehserle was taken back to CA in chains and appeared in an Alameda County courtroom to face arraignment.
It's worth noting that the pick for Mehserle's legal representation was by no means an accident. Michael Rains is the GO-TO lawyer for cops accused of misconduct and/or murder in California, as well as corrupt prison guards. Not only that, but his wife is also a former cop.
Attorney Rains - He's got their back!
Still refusing to fully explain himself, Mehserle eventually would plead not-guilty and was given a bail $3 million - which he posted with the help of a fundraiser, his police union buddies, and racist supporters all over the country.
One of MEHserle's scumbag racist bootlicking supporters at a 2009 rally. Teabagger, most likely.
A massive amount of protests would erupt all over the country, and especially through-out California, the Bay Area, and within the city of Oakland itself - which has essentially been under Marshal law since. Citizens were justifiably out-raged over [yet another] murder of an innocent unarmed person by gestapo pigs. The murder of Trayvon Martin at the hands of a racist vigilante would often be compared to that of Grant's killing. Though some protests turned violent, usually due to agent provocateurs, most would remain largely peaceful. Many demonstrations, vigils, street actions, rallies, and hyper-violent police over-reaction would take place in the wake of Grant's murder.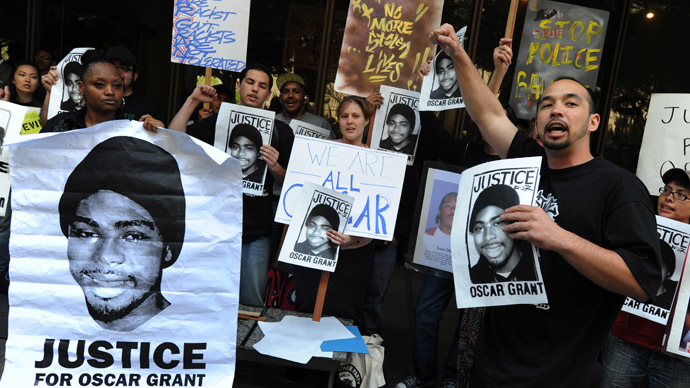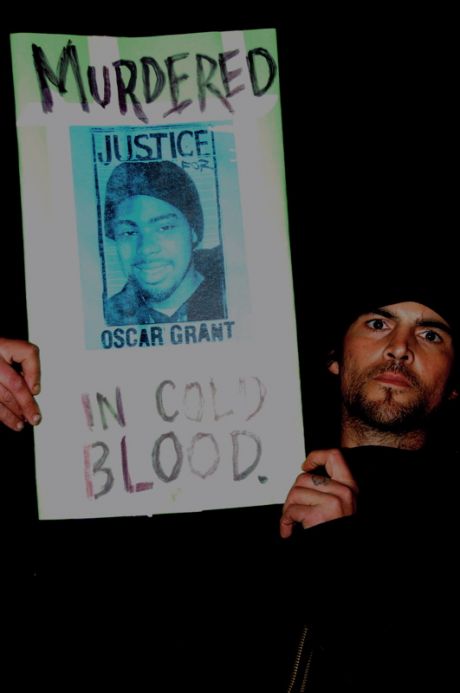 Mehserle, now facing murder charges, was initially supposed to have gone on trial in Oct. 2009. However, various delays put this off... including his attorney Rains' motion to move the trial out of Alameda County due to "media prejudice". The trial would eventually take place in down town Los Angeles and commence in June 2010. Jury was selected on June 8th 2010. There were NO Blacks on that jury, same as the jury in George Zimmerman's murder trial.
One is a SIG Sauer P226 pistol, standard police handgun. The other is a model X-26 taser. Apparently, trained officer J.Mehserle could not tell the goddamn difference! Or at least, that's what his whore of a lawyer Dylan Schaffer argued.
On July 8th 2010 Mehserle was aquitted on charges of second degree murder as well as voluntary manslaughter. Instead, he was found guilty of involuntary manslaughter, the lightest of the three potential charges allowed to the jury as options. Typical prison terms for involuntary manslaughter are two to four years. He was also found guilty of a gun enhancement charge which could have potentially meant as much as an additional three to ten years in prison. Having been free on $3M bond, Mehserle was remanded back into custody following trial. On Nov. 5th 2010 Mehserle was sentenced to two measly, pissant do-bitch years in prison.
Except... he received "double-credit" for time served, reducing his sentence by a further 292 days for the 146 days already spent in jail. Oh, plus that gun enhancement conviction was thrown out during sentencing, sooo... so much for those three to ten extra years he might've gotten.
Johannes Mehserle walked out of prison on June 13th, 2011. He had spent barely 11 months behind bars. The flyer below demonstrates citizens concerns over a murderer walking free after having served soo little time:
On May 9th 2012 Mehserle, through his lawyers, appealed to the California Supreme Court to have his conviction overturned so that he could "return to police work". Thankfully, this appeal was denied in Sept. 2012. Pig Mehserle no-longer has an officially sanctioned license to kill, but he still walks the streets. One of the other dirty, low-down, racist gestapo pigs, Anthony Pirone, was fired for his role in Grant's murder in June 2010. Pirone enlisted in the U.S. military in May 2011 and is currently murdering, possibly raping, and/or causing other manners of grievous harm to innocent people in Afghanistan. However, greedy pig Pirone has since been charged with fraud for continuing to collect and cash unemployment checks some seven months after joining the army! He will face those charges when he returns - assuming Pirone doesn't get his pig head blown off by the Taliban first. Key point - Pirone was one of the first BART cops on the scene, responding to an alleged fight. And it was PIRONE who directly ordered Mehserle to arrest Grant in the first place. So, his role cannot be overlooked! Also, officer Marysol Domenici was another one of the BART pigs to have first responded that night. She was not only a criminal accomplice in Grant's murder, but she was also Pirone's girlfriend at that time! Domenici initially lost her job after LYING under oath during Mehserle's murder trial, but has since been reinstated after whining to her BART officer's union.
Sorry-ass pig/former BART cop/current army thug Anthony Pirone.
Pirone's ex-girlfriend/formerly fired/current BART pig Marysol Domenici.
Circled left to right: Domenici and Pirone. Mehserle bending over, Grant on ground against wall, w/ hands up.
Domenici seen here brandishing weapon, terrorizing innocent, unarmed citizens.
Grant's mother and daughter have since settled a wrongful murder Civil suit against BART for $2.8 million in June 2011. A federal appeals court ruled in July 2013 that Grant's father, Oscar Grant Jr., can sue both Mehserle as well as other BART pigs who took part in Grant's murder. A Civil action claim filed on behave of Grant Jr. and Grant's friends who were with him that night is currently pending. Meanwhile, many people have taken part to both chronicle and celebrate Oscar Grant's life, as well as that of his family. Read an article about the un-told story of his father, Oscar Grant Jr. here.
From L to R: Grant's fiancé Sophina Mesa, daughter Tatiana, and mother Wanda Johnson.
Oscar Grant's mother Wanda Johnson, with his daughter Tatiana Grant.
Actor Michael B. Jordan, who played Oscar Grant in 'Fruitvale Station'.
http://en.wikipedia.org/wiki/Fruitvale_Station
Trailer to film Fruitvale Station - 2013.